As windows 10 hit the market and people already started upgrading to latest Microsoft Win 10.  The printer is very important device which attached to almost all PCs,  So it is very important to special take care about this device. Though mostly all latest printers are compatible with windows 10. But it is a good idea to make sure that your printer will also run smoothly with Windows 10 before you upgrade to this latest OS.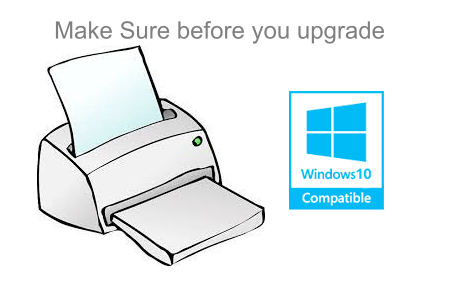 Mostly all printer manufacturers have already launched their latest Windows 10 printer drivers or in the process of releasing soon in future. But still there are some devices which are not compatible with the new win 10 or still company is working on its drivers. If you found the driver for your printer then you can upgrade without thinking twice. Otherwise you have to wait till they launch the newer driver version for your printer. In recent major windows upgrade some old devices stop functioning completely and the only option remains is to buy a new printer. Some vendors have included their driver in the newer windows but for some printers you need to download the driver from their official website to work properly in windows 10.
Below here, we are giving you links for the respective printer vendors to check the compatibility of your printer. Hopefully it will help you.
---
---
HP Printer Possible errors after upgrading to windows 10
HP Printer support for windows 10 compatibility
If you have already upgraded to windows 10 and drivers for your printer is available but still printer is not working in windows 10. Ask your question at our tech community and our experts will help you to get rid of the printer issue.
How to install / update driver in Windows
Disclaimer: All the brand name or any copyrighted material mentioned here are the property of their respective owner. We are not providing any kind of support services etc. This is just an informational post and use of any copyright material is just for information purpose only.