Hitman Pro Review, Download and Coupons
HitmanPro was the first behavioral anti-malware software which was powered with multiple antivirus scanning engines. It was developed by the Surfright. Recently it was acquired by the Sophos. Sophos as well known name in computer security for its business products.
Hitman Pro – First of its kind anti-malware software
It is a reliable security solution that has the aim of keeping the computer safe against fake software, Potential Unwanted Programs or any suspicious applications. Here, we are providing you the full researched information of Hitman pro and also provide the Hitman Pro Download link and its latest promotion & discount coupon code. In the comments section you'll get its market review as well, where customer leave their comments.
New version of Hitman Pro by Surfright is available now and is fully compatible with windows 10.
Download Hitman Pro Anti-Malware

You'll get 30days FREE trial period which would work fully, there is no limitation in trial period; even the removal option will work as well. Hitman Pro 3.7 is compatible with Windows 7 , 8 and Windows 10 as well.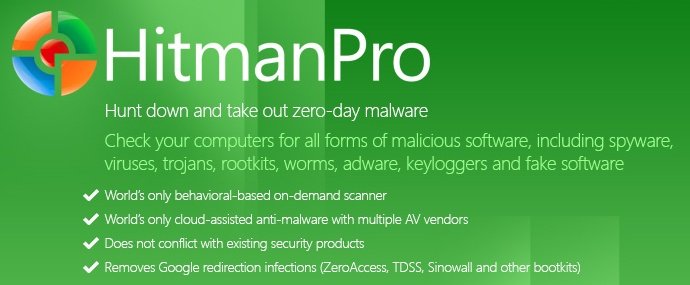 It attributes actively contribute to an accurate removal of all the high risks that can infect a computer such as viruses, Spywares, Trojans, worms, Adwares or Rootkits. It can even detect Backdoors or Keyloggers. This prevents serious privacy breach and data loss. The advanced technology allows the user to clean the computer in case of ransomware and deeply-infested systems. It provides important information about every single detected threat along with recommended actions. Hitman Pro is the best solution in any occasion, especially because antivirus tools often fail to recognize Spywares, Trojans, Rootkits or bootkits. Due to the impressive advantages that it brings, It is recommended for all computer users.
Coupons & Pricing

Below are the links to get some discount on purchase of this premium anti-malware software. These are direct promos and no need to enter any coupon code etc. Click on the link and dicount will be applied automatically to the cart. It is available for both 32-bit and 64-bit computers. Download the appropriate version.
Hitman pro 3 – 1PC 1 Year Subscription 10% Discount
Hitman Pro 3 – 3PC 1 Year Subscription 10% Discount total 35% discount
This is one of the favorite tool of technical Support Guys to eliminate malware, ransomware and hackers exploit from the system. So for Businesses and tech guys its Business License is also comes as incident based. 25 License, 100 License and 250 License pack.
Features
1. Powerful Scanning
Behavioral Scan
Its behavioral scan feature is specially designed to determine the most common characteristics of malware, spyware and Trojans. This outstanding second opinion malware scanner is well able to determine the characteristics of malware in order to create personalized protection methods.
The behavioral scan feature allows the program to scan the computer and rate each malware based on its unique characteristics, such as:
File entropy
Origin
Visibility
Activity
Discrepancies between raw data and API
Anomalies
Communications with web services
Presence
Autostart methods
Meta data
Query public sources
Probable sources
Using this modern feature, It is able to determine in a matter of minutes whether a file is truly dangerous or is just a decoy. For those files classified as suspicious or dangerous, the client sends a request to the Scan Cloud, which in turn sends back a confirmation if these files are truly malicious.
Scanning your computer and removing malware has never been easier, so capitalize on the behavioral scan feature of Hitman Pro and get the peace of mind that your computer is safe.
Various scanning options
Hitman Pro can indicate the threats and their high risks through full system scan, quick scan or Behavioral Scan. Unfamiliar files are uploaded into the Scan Cloud in order to determine their safety. This additional option sends the suspicious file that is currently not in the Hitman Pro database to other five anti-virus providers. After thorough analysis, the user has the guarantee that the file is correctly handled.
Simple interface
Unlike other Top5 anti-malware tools, Hitman Pro has a user-friendly interface. It focuses on a single task at a time. The settings are comprehensive enough even for users who are not tech-savvy at all.
Quickness
When it comes to quickness, Hitman Pro is the best tool available at the moment. A regular full scan doesn't take longer than a few minutes, while a quick one can even take less than a single minute.
Detailed result
After the scan, Hitman Pro delivers a highly particularized list that provides all the characteristics of the items. This approach is very useful for users as they will increase awareness in the future concerning common threats. The accurate level of detail provides valuable information in a simple format.
2. Quarantine
When the scan or Scan Cloud reveals that a certain file is suspicious, it will be placed into quarantine.
3. Hitman Pro Kickstart
This feature is meant to save a computer that is currently affected by ransomware, a specific type of malware that controls it and often asks for payment. This malware is highly dangerous and tricky as it is often masked as system notification or various warnings. When the computer is infected, it cannot be booted. The Boot time scan can be performed if you boot Hitman Pro from a USB flash drive, CD or DVD. This will rescue the computer and remove the threat.
Hitman Pro recommends an action for every suspicious file. However, if the user is absolutely sure that certain software is safe, he or she can use the configuration setting and report the file as being safe. Then no further action will be taken.
Now , let's talk about its Compatibility.
It doesn't conflict with existing Antivirus.
In most cases security tools conflict with one another. Hitman Pro won't interrupt the functionality of the current Antivirus and it won't be influenced by it either. Still, unlike an Antivirus, it also detects the best hidden threats such as fake softwares and Keyloggers as well.
OS Compatibility
Hitman Pro works smoothly for all the commonly used Microsoft Windows versions: Windows 8, Windows 7, Windows XP, Windows Vista, Windows 2008 and Windows 2003. It only targets Microsoft PCs so doesn't work for Linux or Mac OS X.
This is a paid software but it's definitely worth the investment. Hitman Pro is free for the first 30 days but the user will need to purchase a paid subscription in order to stay safe at all times. There are various reasonably-priced plans for home use or enterprise.
Hitman Pro is unique and very good software. It is worth to buy it. If you have any antivirus already installed on your system. You still need Hitman Pro. We strongly recommend this one to protect from many threat that antivirus can not detect or remove. This is world's only behavioral based on demand scanner. Hitman Pro is actually a AntiMalware software which protects you from even unknown or new malwares. It detects new threats according to their behavior. It also use a cloud based technology to scan with 5 antivirus software to make sure that your PC is safe from any threat. We are giving you discounted link also here to save money for you.
Hitman Pro white List
Many antivirus tools remove safe files and that can lead to an overall poor functionality of the PC. Hitman Pro has a special white list that avoids labeling important files as high risks.