Most Windows 10 users are happy with the performance of their operating system. However, sometimes the processor is slowed down by some external processes. In these cases, it is logical to be alarmed and think that we are in the presence of a virus. It is very important to periodically check the task manager to see if any process is consuming more resources than normal. Well, today we are going to review one of those processes that can slow down our PC. We are talking about QtWebEngineProcess.exe. Without further due, let's see what is that.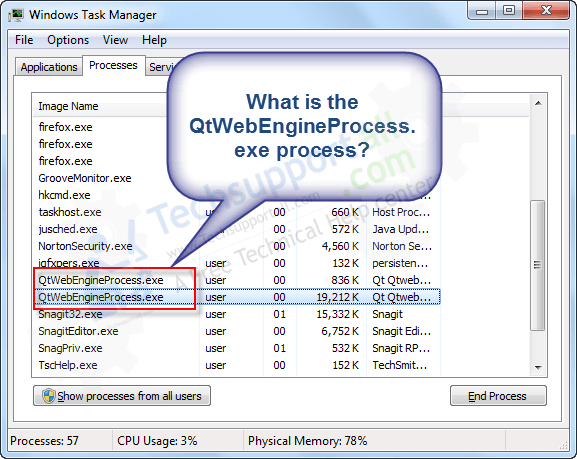 What is QtWebEngineProcess.exe
The Qtwebengineprocess.exe belongs to a piece of Qt code called WebEngine. It is an engine for web browsers. So we can say QtWebEngineProcess.exe is a system file and start when system require to run it.
How it works
Basically it is a process by which applications like Twitter, Facebook, etc do not need to go out to a web browser to open links. Likewise, it is a process that is usually associated with the Origin game platform. This is very similar to Steam. Users can buy, download, install and update games, save the game process and manage their profiles. They can also stream through Twitch TV and even share the game library with sites like Xbox Live, Facebook, PlayStation Network, and the like.
---
---
In theory, it is a process that is not typical of Windows and should be harmless. However, it can be used by a virus version of the Chromium browser itself. Similarly, many advertising programs and browser hijackers use this process to introduce large amounts of advertisements. And as a result, they create malicious or scam files.
The following problem may occur with this
On the other hand, QtWebEngineProcess.exe service can consume large resources within the PC. It can be due to a bad configuration or to some excessive use of its associated modules. This is when this process can become problematic in the task manager.
Here's the Solution of above problem

For any of the reasons mentioned above, this process can become a real headache. So let's see how we can eliminate QtWebEngineProcess.exe's modules to release the high system resources.
Uninstall Origin: If the QtWebEngineProcess.exe process is associated with Origin and is causing overuse of the system. Then you have to see if it's worth keeping the program. If not, you can proceed to uninstall it. First, you have to go to the control panel and remove the suspicious programs.
Steps:
With this intention, please press the Win+R combination to open the run box. Once there, execute the following command
appwiz.cpl
A window will immediately open with all the programs installed. Please select the Origin program, and right-click on it to uninstall it.
Uninstall another program related to QtWebEngineProcess.exe
It is also possible that this process is masking some malicious files. With this intention, we will see what it is. To do this, enter the task manager by pressing the combination Ctrl+Shift+Esc. Then right-click on the process. Then select the Open file location option. Once there, check the file name. If it's an unrecognized program, proceed to uninstall it. If it is a reliable program, then you should assess whether it is reasonable to keep it at the cost of losing performance.
A good way to check if the program is legitimate is to look at its location. For example, if it's in the path C:\ Windows or C:\Windows\System32, then it's a sign of the alarm.
Check and correct logging errors with the SFC command.
It is also good to check the files for possible errors. To do this we will use the Command Prompt with administrative privileges. With this intention, please type CMD in the search bar and run it as an administrator.
Once there, run the next command:
sfc/scannow
This command scans the system for corrupt or missing errors. It also fixes them if possible.
Use some antivirus.
It is also advisable to use an anti-malware program. You can use Malwarebytes or HitmanPro.
Finally, we have seen how QtWebEngineProcess.exe works. We also know at what point it can be risky. But the most important thing is that you know how to remove it from your computer. And you? have you had with overuse of your CPU? I hope this tutorial is useful to you. Bye!