why can't i launch internet explorer a second time
I use win 7 and IE 11.0.9600.19080 (edge). After I use IE and close it I cannot relaunch it from the icons on my desktop and taskbar. The IE window appears with the timer icon, which never finishes. Clicking on it provides the nastygram in the IE titlebar "not responding". I have to restart win 7. The usual method of restarting does not work via the start button in the lower left corner. Here I also get a never ending timer icon. I have installed separate icons to shutdown and restart my PC. But this MO is annoyingly inconvenient.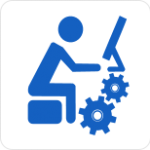 Hi,
There is no timer in icons. Actually, your IE doesn't response second time may be due to other reason. Sometimes, IE doesn't close properly, that's why it doesn't open next time.
Your shutdown button is not working properly is the straight sign of your windows files maybe gone corrupted or is not responding properly. Anyway, we are giving you some steps below please follow the steps and let us know the findings.
Steps: