Panda has released free antivirus software. It is a cloud based utility to protect the computers in real time. It is fully compatible with Windows 10 and as well as older versions like Windows 7 and XP. USB immunization and bootable rescue disks like features make it a great choice to download.
Download Panda Free Antivirus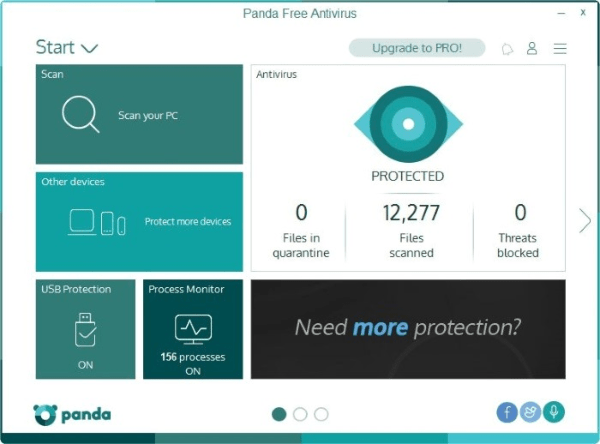 Panda Security 2017 Review & Coupon Codes
---
---
Get 50% off on Panda security products
Our computers are prone to attacks by malware every other day especially with the alarming increase in the number of bad guys out there who will stop at nothing to get malware into our systems. Your computer may also attempt to install 'invaders ' such as virus, Trojans and rootkits if you are go to a website that uses a security flaw. With these kind of risks, it is best to stay protected with an antivirus software. Some people will argue that they are careful enough and don't need such software but the truth is that even the most careful user is still vulnerable.
You may avoid downloading any suspicious file, visiting the wrong websites among other irresponsible things that pose a threat to infecting your computer with malware but there might be a loophole that you fail to notice. Now, nobody would like to take that risk with their computer which is why installing an antivirus is the best option. In fact we have antivirus products that are free like panda free antivirus which is an easy to use program. You can also check for other free antivirus alternates on this post. Best free antivirus
Key Features of Free Panda Antivirus
Cloud-based scanning
Panda combines both functions of firewall as well as antivirus software so as to simplify your device security. Although this type of software has very limited telephone support system, its email support system is always available.
Gaming mode
Panda Secure includes both protection for mobile phones and automatically scans flash disks. It has also a gaming mode model, so you can easily play games on any computer without even worrying about scheduled scans or pop reminders interrupting your gameplay.
USB immunization
It received a close to perfect score for its protection, meaning it easily identified and blocked known and also unknown threats on the internet such as malware, worms and Trojans.
Bootable rescue kit
A helpful feature of the Panda Antivirus Pro is it lets one create a rescue type of USB drive to utilise when your device does not boot due to infection. When one takes time to create rescue disk before they need it, it's easier to recover and restore from otherwise catastrophic results.>
Panda free antivirus interface
The simplicity of this program is the first thing that you will notice when you install it. Many of its elements have a panda logo and these elements can be dragged around such as the scan button and the support button. When everything is fine with your computer the main screen shows a green bull's eye. When this green bull's eye turns red it's an alert that the program needs your attention. Panda free antivirus has a rescue kit that is built in and this will save you the trouble of having to download it Panda free antivirus protection and performance >
At the center of panda's protection are cloud scans which ensure cloud malware protection front and center as opposed to other online scanners which are backstops against malware. It is only when you are offline that panda free antivirus uses local scanning in order to stop attacks. Email attachments and all web links on your computer are screened by panda free antivirus to prevent malware from getting into your computer from websites or an email.
In case you want to search for malware you can actually perform a full scan, custom scan or a critical scan of key files. You can choose to have a daily, weekly or monthly scan on your computer where you will also set the start time and select the areas of your system that you would like excluded from the scan.
Panda has a monitor examining every running thread of your computer which will notify you when there is a threat, processes that are using the internet and those that have been blocked. This is a process that is mostly ignored by users but it provides useful data in case of an attack. Panda free antivirus security features
This program have security plugins for the browsers. The plugins watch the incoming traffic and check the reputation of destinations to keep the system secure.
Impact of panda free antivirus on the system
This program does not have any major effect on the performance of your system. This applies to the different operating systems as none is significantly affected. During a full scan panda free antivirus have a lower impact as compared to other antivirus products.
Installation Panda free antivirus is arguably among the fastest installers. I tried it on my system and it took me under 6 minutes to install. You should however be careful while downloading it so as not to confuse the free antivirus with the 30 day trial for the panda pro version.
Pros and cons of free panda antivirus
Let me start with the good of this program which I believe outdo the bad. – It is a very good malware protector for your system. – Its interface is simple and easy as well as customizable. – It has a process monitor that is very useful. On the contrary what is not appealing about this program is the fact that it has false positives and it tries to change home page and search engine.
Giving my verdict from an honest point of view I can rate panda free antivirus 9 out of 10. Yeah, this program has close to perfect malware detection and I have it on my computer for free!' hope you find this panda free antivirus 2017 review useful and it helps you make a choice to avert any attack on your system.
Panda Free cloud antivirus review
Things we like about this program
Panda antivirus is powerful software and there is no doubt in that. The cloud feature definitely adds to this quality and also removes the burden from the servers.
This program has gone through several tests and comparisons and Panda has given some great results. The protection statistics of Panda show that this program keeps computers safe from over 99% of the viruses which is a really good result given that it is a free version.
Moreover, like many other antivirus software, Panda does not come with a huge weight. It goes easy on your system and the file size is not that significant. This means that it would not eat up a lot of memory from your system. It comes with a friendly interface and is quite simple from an operating perspective.
Some negative aspects of Panda
You might have noticed a trend that goes in using free software. They come with some tools bars and other irrelevant things that you might not even need. Similarly, Panda comes with a toolbar that does not really have much purpose. The antivirus program also changes your homepage to Yahoo for no reason.