Microsoft has continued with its laptop-tablet hybrid journey with the newest addition to the family, Microsoft Surface Pro 4. This time though, Microsoft has made sure not to repeat the same mistakes as it did in Surface Pro 3. It seems like Microsoft went through all the users' feedbacks for Microsoft Surface Pro 3 and made sure that none of those problems and issues were repeated in Microsoft Surface Pro 4. This is one of the reasons why Microsoft Surface Pro 4 is appreciated by the users so much.
Surface Pro 4 Education Discount
Buy Microsoft Surface Pro 4 from Microsoft Store or Amazon
The users found the Type Cover of Surface Pro 3 very annoying and inconvenient. The users complain that it had a crooked track pad and a loose fitted keyboard attached to it. Now it looks like that Microsoft has addressed this issue for once and for all with the new Surface Pro 4. The keyboard of the new Surface Pro 4 is more solidly built and attached and its track pad is also more straightened up and easy to use. Thus, it can be safely said that Microsoft has finally managed to do everything right about Microsoft Surface Pro 4, slowly but surely. Microsoft introduced the laptop-tablet hybrid product around 3 years ago and with every new product, the quality improves.
---
---
Microsoft Surface Pro 4 offers some amazing and improved features, such as a better Type Cover, more solid body, longer battery time etc. In our article today, we will carefully dissect this new member of the Microsoft Surface Pro family, in terms of hardware, display, battery life, typing experience etc. So if you are considering purchasing a new device and are not sure which one in the market is the best one for you or you are confused if Microsoft Surface Pro is worth your money or not, read on to make the decision easier for yourself.
New features in Surface Pro 4
If you have question that what is new in Surface Pro 4 over Surface Pro 3. Then read the below list to find out it.
New Surface Pen is included with it.
New Surface Pen comes with an eraser on its top & have 4 times more sensitivity from previous version.
40% larger track pad.
Windows Hello Compatible.
Bigger screen size (12.3 inches).
Larger Resolution (2736 x 1824 pixels).
New Type cover which have no flat keys as like in surface pro 3 (avalable with extra cost).
New Windows 10 Pro Included with it.
It is powered by 6th Gen Intel Processor.
Microsoft Surface Pro 4 Review
Hardware
In terms of hardware and the external look of it, Microsoft Surface Pro 4 has huge resemblance and similarities with Surface Pro 3. This is, however, not an objectionable element for the users as Surface Pro 3 was designed very stylishly as well. The frame thickness for Surface Pro 4 is somewhat similar to Surface Pro 3, with a size of 8.45mm. Same is the case with the weight, and Surface Pro 4 weighs 766 g. This makes Microsoft Surface Pro 4 a bit heavy and bigger than other tablets, and lighter and smaller than most laptops, this is what makes it a laptop-tablet hybrid.
Surface Pro 4, just like Surface Pro 3, has a magnesium case and the stand that it brings with it is adjustable. However, the negative parts are also there and have left the users complaining. Microsoft did not add many ports in the Surface Pro 4. It has a USB port and a port to insert a memory card and though these seem sufficient for most of the common users, a few, who are more tech savvy than the others, have some reservations. Like a few of its other devices, Microsoft has incorporated biometric authenticity technology in the Surface Pro 4 as well.
Display
The display for Surface Pro 4 is more refined and larger in size. The resolution is much better as compared to the processors of Surface Pro 4 and offers an incredible experience to the users. The excellent resolution ensures that no distorted imagery or individual pixels are shown. The resolution offered by Microsoft Surface Pro 4 makes movie watching, editing, Skyping and activities, a pleasurable experience. The colour tones are sharp and excellent and the lighting options are also very ideal.
Pen Input
Microsoft Surface Pro 4 also offers a pen input like Surface Pro 3 and more. It is very easy and efficient to use this pen and it will just give a feel like writing on a paper. The Microsoft Surface Pro 4 pen will allow you to draw, write, and paint on your laptop/tablet. The pen helps the artists, illustrators or the designers to efficiently use their Surface Pro 4 to design and draw stuff.
Typing experience
As mentioned before, Microsoft has made an extra effort to amend the issues that were present in Surface Pro 3 by not repeating them in Surface Pro 4. The Type Cover for Surface Pro 4 is much better than its processor. The keyboard is solidly attached to it and is easy to operate. The track pad also is very smooth and a joy to use. The keyboard for Surface Pro 4 provides a steady grip for the typing and can be firmly used anywhere, anytime.
Performance and battery life
The performance and battery life for Microsoft Surface Pro 4 is pretty much similar to Surface Pro 3. It is not very exceptionally bad or good, it is just average. It is, however, reasonable for anyone to use even for editors and illustrators or anyone else who uses their laptops for longer duration.
Microsoft Surface Pro 4 Coupon Codes
You can buy this new versatile tablet which can replace your laptop at a cheaper price using the Microsoft Store Coupon Codes.
Surface Pro 4 Bundle offer – upto $139 Discount
As there are many devices and choosing a right one is not an easy task. We are here trying to help you to choose the best device. See the below comparison table to compare Surface Devices. A major difference between Surface 3 and New surface devices is the missing of integrated 4G / LTE support.
Surface Book vs Surface Pro 4 vs Surface 3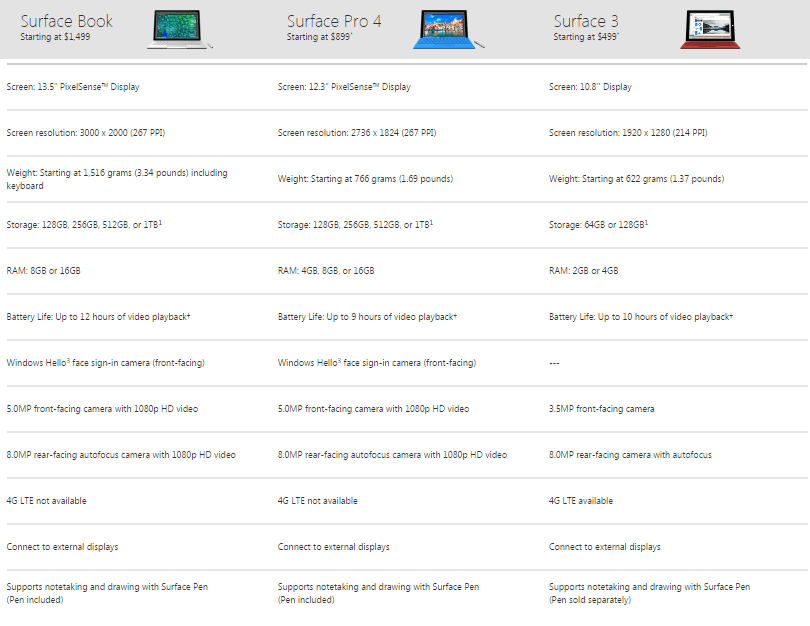 Specification comparison of similar devices
Comparison Surface Pro 4 vs Surface Pro 3 vs Surface Book vs Macbook Air vs iPad Pro vs Macbook Pro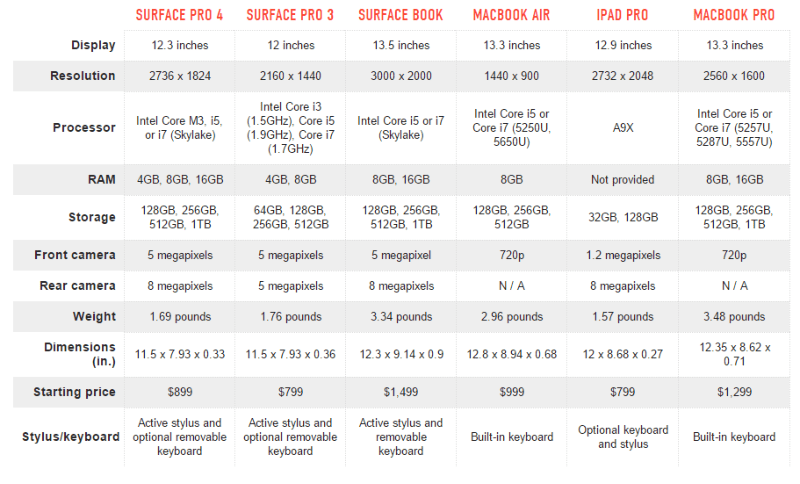 Please leave your comments, review or tips about Surface pro 4 using the below form.