Microsoft introduced its line of laptop-tablet hybrids in 2012, for the first time ever, called the Microsoft Surface Book. As of now, a total of four models of the Surface series have hit the market, the latest released in 2015 called the Microsoft Surface Pro 4 & new Surface Book.
Note: Surface Book is a different product than Surface Pro.
Microsoft is a decades old company that started off its franchise with large, hefty computers that were ugly to look at. However, Microsoft has come a long way in all these years and brought its users some slimmer and more efficient devices that are a joy to carry and flaunt, and Microsoft Surface Book is just a fine example of that transformation.
Save up to $150 on Surface Book
---
---
Buy Surface Books Directly from Microsoft Store or Amazon
Microsoft Surface Book can be made into a laptop and a tablet too. It comes with an adjustable keyboard. Many people loved this new device and concept by Microsoft and many other companies even tried to replicate the design. However, a few were not too impressed with it. This article today will attempt to dissect the various aspects of the Microsoft Surface Book and review the device in terms of those.
Some unique features of the Surface Book
Magnesium Alloy Body which makes it lighter and sturdy.
Muscle wires to hold the screen, which last long with good flexibility and can be rotated up to 180 degrees.
Detachable screen to use as a tablet.
Screens can rotate up to 180 degrees.
You can operate it with Touch, Pen or mouse, its Draw Mode is a powerful feature.
12 hrs. Battery backup
It is being compared with the Macbook pro which is approx $200 cheaper. However, the cost of Microsoft Surface Book is worth as per its specifications and features. Launching of Surface Book and Comparison with MacBook Pro.
Microsoft Surface Book Review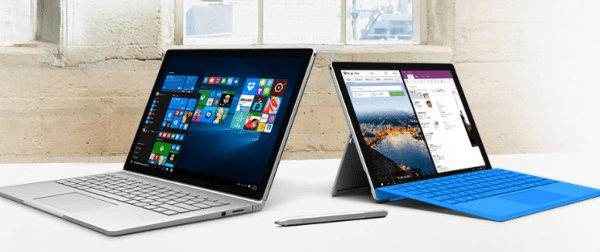 A laptop-tablet hybrid
Different people have different preferences when it comes to the kind of device they want to own. Tablets are more convenient to carry and use and therefore many people prefer buying a tablet. However, those who have more workload and long hours in front of the screen, they prefer a laptop as that suits their nature of work. Microsoft Surface Book is a 2-in-1 device that provides both these options for its users. So no matter which way you prefer your device to be, you can have it.
Pros and Cons
There is no doubt that Microsoft Surface Book is an excellent device with excellent performance. It provides a large, un-pixelated, colorful screen with excellent graphic quality. It has a stylish and sleek design and is built solidly. Windows 10 installed on the device is perfectly compatible with it and does not disappoint users.
However, there are a few lows on the devices as well. Many users complain that the keypad is sloppy and uncomfortable to use. The Microsoft Surface Book is very costly and cannot be afforded by many. Also, according to the feedback of illustrators and designers, it is difficult to do some real designing and illustration on the screen as it is not set up accordingly.
Design
Microsoft has done a good job in the designing department with this one. The design is appreciated by most as it is innovative and pleasant to look at and work on. The Microsoft Surface Book comes with a detachable keyboard, which means that the device can be used as both a laptop and a tablet according to personal preference and need.
Type Cover
This is perhaps the top department for which Microsoft has received the most complaints. The keypad is ill fitted and not comfortable enough to be used. The track pad, as well, is not solidly made. The Type Cover is very thin and this is difficult to use. Many people even feel that the touchpad is not responsive enough.
Display
Microsoft has increased the size of the screen for the Surface Book. The display quality is excellent on this device. The resolution and pixel density is quite up to the mark. Users are provided with a sharp toned screen which does not have any visible pixels. This element makes the movie watching, Skyping or simply editing experience great for the users.
Surface Pen
Microsoft has incorporated a pen with the Surface Book to facilitate the users if they want to note or draw anything down but don't necessarily feel the need to type. The Surface Pen is an excellent addition to the device. The Surface Pen works on the pressure level system and has different types of nibs that can be opted by the user according to his/her preference. The Surface Pen allows doodling and writing like you do with ordinary paper and pen.
Camera
The Surface Book comes with 5 and 8 mega pixels front and back cameras, respectively. The results for the camera are surprisingly too good for a laptop/table camera. The image resolution is good as compared to how usually these devices are captured and it works excellently in reasonable lighting.
Performance and Battery life
Microsoft Surface Book provides a great performance and a decent battery life. Though it does not live up to the Microsoft's claim of providing an unparalleled performance, the overall performance of the Surface Book is pretty good. Battery life is also decent but not something to do with superpowers. The battery drains relatively more quickly if the user is utilizing the device to play games or edit.
To buy or not to buy:
Everyone has a different reason to buy a laptop/tablet so we cannot suggest individually what might suit you and what might not. However, we can rate the Microsoft Surface Book for you, categorically, and help you in deciding whether this device is for you or not.
Battery life and performance 8/10
Design 9/10
Type Cover 7/10
Display 9/10
Surface Pen 9/10
Camera 8/10
Surface Book Coupons
Check out the below coupons and promos to buy Surface Book in cheaper price from Microsoft Store.
Comparison Between Surface Book, Surface Pro 4 and Surface Pro 3
Surface Book vs Surface Pro 4 vs Surface Pro 3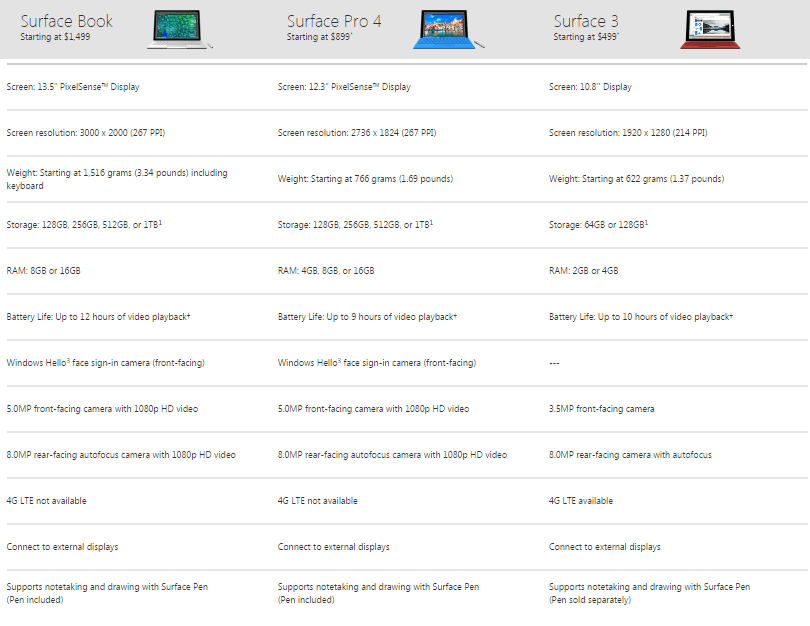 Please comment below on your reviews, issues, and tips about Microsoft Surface Book.