[box type="note" align="alignleft" class="" width="100%"]Check out new products from Microsoft  Surface pro 4 and Surface Book[/box]
Microsoft has been striving to create a device that will replace your tablet as well as laptop. The only trouble is that it has taken the company a lot of time to achieve its objectives. The Microsoft Surface 3 represents a step in the right direction and if you are looking to replace your old laptop then you should seriously take a look at this new offering from Microsoft.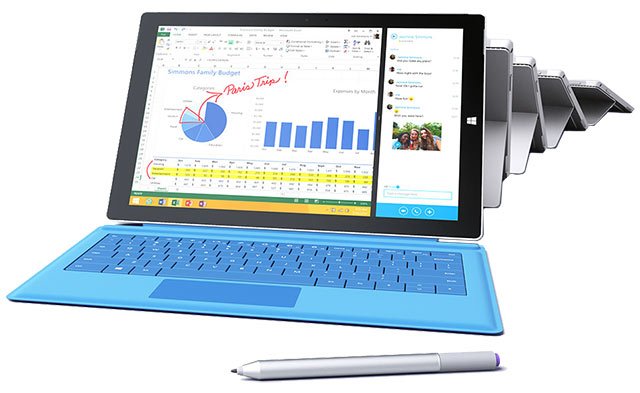 What is New in Microsoft Surface 3 & our review
The Microsoft Surface 3 has a large screen that is much easier to use than any tablet. The screen is very thin and light and it also has an excellent aspect ratio. What's more, the Surface 3 is so powerful that it gives the best Ultrabooks a run for their money. The only problem with using it is that it is not the most comfortable device to use on your lap and it is also a bit unwieldy as well. Even so, the fact that it comes with a large touchscreen makes it a worthwhile option.
The Microsoft Surface 3 is easy to use as a tablet and its fast performance as well as excellent high-resolution display is its main selling points. The twelve-inch display offers 2160 x 1440 resolution. In addition, a 1.9GHz Intel Core i5 4300U processor powers the Surface 3. It also has 8GB DDR3 SDRAM at 1600 MHz for networking; you can use 802.11a/c wireless connectivity and Bluetooth 4.0. The Surface 3 is run by Windows 8.1 (64 bit) operating system. Though the Surface 3 is sold without a keyboard, you can always attach one that you can purchase separately to it.
---
---
Although the Surface 3 is touted to be among the thinnest and lightest Intel Core i-series devices, it cannot match the iPAD AIR for thinness and ethereality. Even so, it does have a very thin body that along with a 12-inch touchscreen makes it feel rather upscale. Unlike its predecessors the Surface Pro and Surface Pro 2 the Surface 3 is not boxy or bad looking. In addition, the Surface 3 is lighter than the Surface Pro and weighs just eight hundred grams as opposed to the nine hundred grams weight of the Surface Pro. This is quite an achievement given the fact that the Surface 3 has a large 12-inch screen.
Microsoft says that the Surface 3 has been designed to be fanless but in truth it does use a fan to cool things down. The claim that it is fanless stems from the fact that the internals of the system allow the Surface 3 to run on very-very low voltage. Even so a thin and quiet fan does move air as and when needed, but it does so without making any noise to let you know that a fan is in operation. When you test the Surface 3 the body feels cool and once in a while you may hear a fan working.
The Surface 3 also comes with a kickstand that you can adjust to any angle from twenty-two degrees to one hundred and fifty degrees. The kickstand keeps the screen at a position that suits your needs.
The Microsoft Surface 3 also comes with what the company prefers to call a pen though in reality it is a stylus that you can use on different applications. You can, for example, use the pen to fill in a crossword puzzle as well as to draw and take notes.
The one thing that everyone hates about the Surface 3 is that it does not come with a keyboard. The company does sell as separate keyboard that will cost you an additional approximately 130 dollars. The company does however provide a type cover that can double up as screen protector and complete keyboard as well as touchpad interface. This cover is larger than its earlier versions though the old versions will work with the Surface 3 but without covering the entire Surface 3 screen. The Surface 3 also comes with an inbuilt touchpad that is better than previous versions and is made from what the company calls a ceramic fabric. However, this touchpad lacks proper responsiveness and it is also not very sensitive to touch.
The Microsoft Surface 3 is also equipped with a complete USB 3.0 port and microSD card reader as well as Mini Display Port. It also comes with a five megapixel and 1080 HD front and rear facing cameras. Stereo speakers with Dolby are another feature that makes the Surface 3 a desirable gadget.
The Microsoft Surface 3, powered by a core i5 processor and 128 GB of RAM costs about 999 dollars. The Core i3 powered model costs approximately 799 dollars and there are two Core i7 models that cost 1549 and 1949 dollars respectively.
Surface 3 coupons
Click here to Pre Order Surface pro 3 with Office 365 – $499 only.