The iball Baton 150M is a Wi-Fi receiver for the PC that receives wireless signals from the router. It connects to your computer through a USB port which requires its driver to install into the computers. To set up this iball 150 receiver into the computer,  you'll need its driver CD which comes inside its box. Put the CD into the CD drive and run the setup.exe file. Follow its on-screen instructions to complete the installation.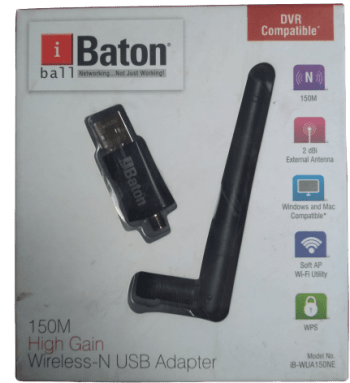 Sometimes we couldn't get to the CD's content  due to many reasons. Most of the time the driver's CD gets misplaced or sometimes your CD drive is not reading up the CD's content.  In this scenario, you can download the driver from its official website. Unfortunately, iball doesn't provide this particular model number driver on their website as of June 2020. Even though they are providing the other model number drivers. So, what should you do now? Don't worry because we have made a copy of the iball 150 Wireless receiver's driver CD and we are going to share it with you here now. Go to the download section below and click on the download link from there.
Download Driver
Download  iBall Baton 150M High Gain Wireless-N USB Adapter driver download from the download link below.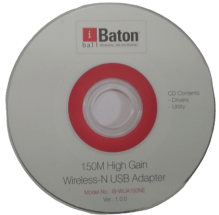 Driver Description
Download Link
iBall 150M (ib-WUA150NE) Full Feature Driver for Windows 10, 8.1, 8, 7, Linux and Mac 10.4 to 10.15 OS
Download
iBall 150M (ib-WUA150NE) Basic Driver for Windows 10, 8.1, 8, 7, Vista, XP (32bit / 64bit) OS
Download
OR
Download the same above driver directly from iBall 150M High Gain Official website
---
More Information
We are sharing with you some more information about this iball 150m 802.11 n high gain wifi receiver.
---
---
Features
The iball Baton 150M WiFi receiver (Model Number: ib-WUA150NE) would be very useful if you have a desktop and want to connect with your router wirelessly. It receives only a N series of wireless signals. It has a unique feature that comes with a 2dbi external antenna which makes it very strong in terms of receiving signals from the router.
Key Features:
Compatible with IEEE 8.2.11 b/g/n standard
USB 2.0 High Speed Interface
WPS button to establish WPA security
Adhoc Operation mode
OS compatible: Windows 10, 8, 7, Vista, XP, Mac 10.11
Software AP utility to create your own wifi network.