Do you want to connect / pair a new bluetooth device in Windows 10 laptop / pc? Then this tutorial may help you connecting a device first time and shortcut methods to quickly turn on / off or switch the bluetooth devices in Windows 10.
How to turn on Bluetooth in Windows 10
First of all we require to turn on the Bluetooth function on our computer or laptop. To do so follow the below steps.
Search for bluetooth in the search bar and click on the Bluetooth & other devices settings. or Go to Settings and click on devices. Click on bluetooth & other devices.
Turn on / off bluetooth.
It will also show the paired devices available for connection. You can connect or disconnect a device from here.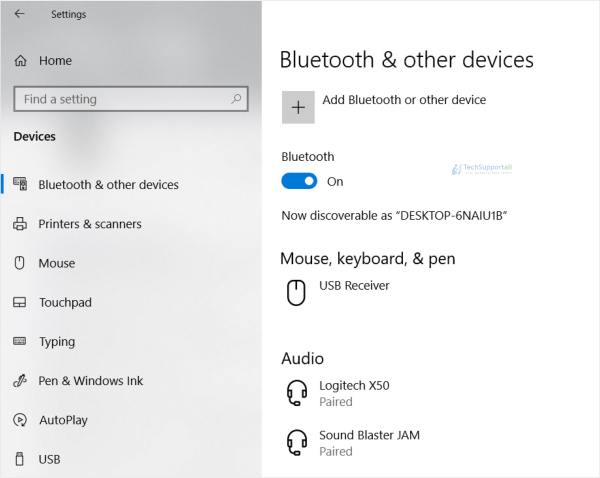 Before connecting any new device via Bluetooth it require to paired first. Pairing is a one time process and after that we can quickly connect to the device.
---
---
How to pair a new Bluetooth device
Click on the add Bluetooth or new device. Refer above image for the same.
Select the Bluetooth from the options.
Now it will search for the available devices. Please make sure to turn on Bluetooth on both devices.
Now select your desired device and click on it to pair it. It will show a pin to confirm on both devices. After confirmation the device will be ready to connect.
Just wait for few seconds until Windows finish to set up the device, and this is it.
Now after pairing a device we can connect it quickly just by turning on the bluetooth on both devices. There is also a shortcut to quickly turn Bluetooth on or off.
Click on the action center button on the task bar and then switch on or off by clicking on the Bluetooth icon.
What is Bluetooth?
Bluetooth is a standard of wireless technology for the exchange of data over short distances with a short wavelength, UHF radio waves in the ISM band of 2.4 to 2.485 GHz for fixed and mobile devices. In more simple words, this is a technology that allows wireless communication, and information exchange between two devices whether they are fixed or mobile. The devices that most often use this technology belong to sectors of telecommunications and personal computing, such as mobile phones, laptops, personal computers, printers or digital cameras.
Most of the moderns computer has a Bluetooth technology in order to attach devices likes mobile phones, peripherals (keyboards, mouses), speakers, joysticks, headphones and more. Headphones and wireless speakers are the most used devices.