Today we're going to talk about a PUP. This is called a Potentially Unwanted Program. These unwanted programs are usually downloaded along with the desired program, which serves as a transport or screen to hide the trail of the PUP.
PUPs can affect computer performance as well as violate user privacy. Specifically, we will talk about the PUP.Optional.KMSpico. But most importantly, we'll look at how to remove it from the computer.
This PUP is part of a tool called KMSPico. This is an illegal tool for the unauthorized activation of Microsoft Windows, Microsoft Office, and other products of this corporation. KMS is essentially a technology that allows you to activate certain services over the local network. It enables activation without connecting to Microsoft servers.
On the other hand, KMSPico bypasses the entire process and simply replaces the current key with a new one. As a result, Microsoft software can be activated without paying anything. However, this tool is developed by cybercriminals. In addition, the developers ask you to disable your antivirus in order to install it. Consequently, it is often included with RAT (remote access trojan), PUPs, adware or viruses. This allows hackers to obtain private user information such as passwords, credit card information and others. But don't worry, we'll figure out how to remove PUP.Optional.KMSpico from Windows 10.
1. Uninstall KMSPico from your computer.
As mentioned above, this malware is installed when using the KMSPico tool. So the first action to take is to uninstall all the malicious program from your computer. Please remember, acquire your copy of Windows or Office legally. However, it is likely that the program will resist being uninstalled.
---
---
In that case, we will start the system in safe mode. You don't know how to do it? No problem, follow our tutorial.
First action to take is to uninstall the KMSPico malicious program  from the control panel. To do this, please press the Win + R combination and execute the following command:
appwiz.cpl
If you found any program with KMSPico, AutoKMS or something similar names. Right-click on it and click on uninstall it.
2. Remove PUP.Optional.KMSpico with ADWcleaner
We mentioned earlier that this is PUP. Therefore, we will use a specialized tool to eliminate this type of threat. We will refer to AdwCleaner. This program removes trojans, malware, adware and many other types of threats. It is also free.
So we will go to your website to download and run it.
The program will then update the databases and start scanning the system for threats.
Once the scan is complete, the wizard will display the contaminated files to be sent to quarantine or remove.

Once the cleaning is completed, it is necessary to restart the machine to complete the process.

3. Perform a general check-up with ESET Online Scanner
After removing the threat PUP.Optional.KMSpico, it is convenient to perform a general check with ESET Free Online Scanner. This tool uses the web browser to scan and detect any kind of threat to the system.
You can download it from here.  After installing it and making some configurations, it's time to do the first check on the computer. Please remember to activate the option to detect and remove potentially unwanted programs.
To start the process, just click on Get Started.
Then configure some elements related to privacy and we are ready for the first scan. Please note that the system offers three types of scans. The fast, the complete and the customized one. Sometimes a quick scan is enough to remove the threats. However, to be safe please use a full scan. Consequently, this will take quite a while, so be careful.
Finally, click on continue. We will see a report with all the threats detected and eliminated.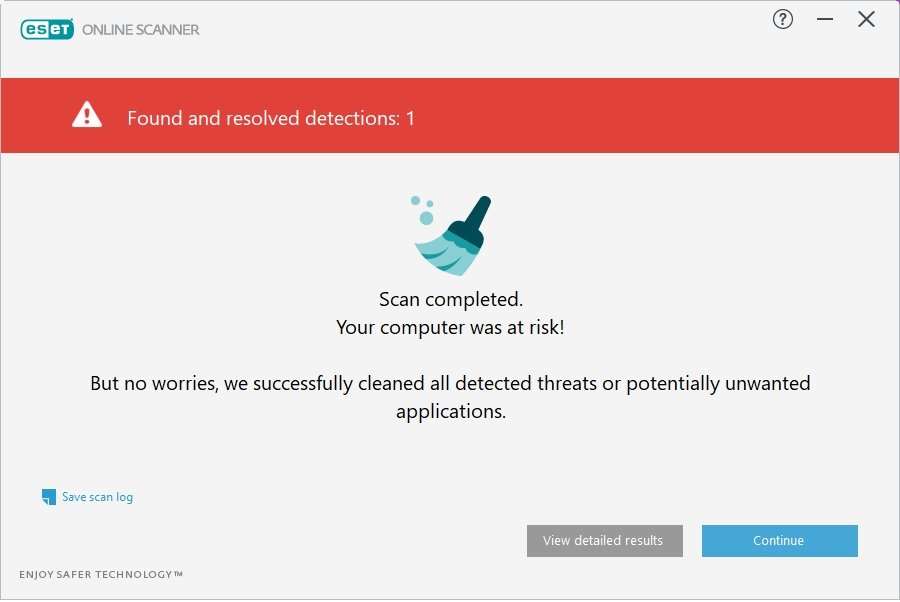 Finally we have seen how to remove PUP.Optional.KMSpico from Windows 10. This malware comes integrated with fraudulent tools to activate Windows and Office. So we recommend you not to use them. That's all for now, I hope you find this tutorial useful. Bye.