How to Fix laptop battery plugged in but not charging problem
Today on this page, we are going to give you the solution of How to fix laptop battery plugged in but not charging problem. Whenever you plug in your laptop charger, it shows you the error message at the right-bottom corner "Charger connected but not charging" something like this. Let's learn how to fix laptop battery plugged in but not charging problem.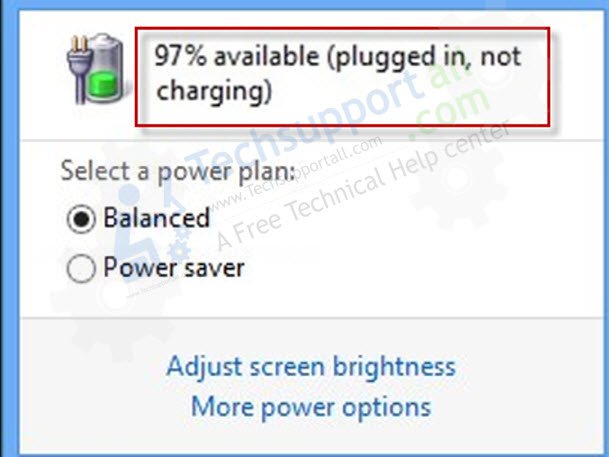 When you connect your laptop charger and it says "Plugged in, not charging" or your battery percentage not grown up.
It is a very frustrating problem and embarrassing problem due to can't find the solution to this problem. To fix this, you don't need to apply any huge solution for this. It will be done with a  simple trick. We are going to share a tested method to resolve this issue. Your problem will be solved for sure. Let's start how to do. Follow the following step by step guide to fix laptop not charging issue.
How to Fix laptop battery plugged in but not charging
[Steps]
Method #1: Uninstall Battery Drivers
First of all, shut down your laptop.
Take out the laptop battery from the laptop.
Then connect the laptop charger to laptop charging port.
Now, turn on your laptop by pressing the power button. The laptop should be booting up because it gets the power from the charger directly, without a battery.
Go to control panel when your laptop is up.
Go to Device Manager
In the device manager, double-click on the "batteries". When you double-click on that, you'll get two options (you might get more than two). You need to uninstall all them under batteries one by one right-clicking on that.

After that, shut down the laptop
Put the battery in the laptop again.
Now, start your laptop.
Your problem should be fixed. It will not show you any error message regarding your battery. It will start charging your laptop battery again, and your battery percentage will grow up.
If you found this article helpful, please let me know by leaving a comment. If you have any doubt or not solved your issue then leave a comment, we'll answer your comments there.
---
Additional methods to fix plugged in but not charging issue
Try the following techniques if above first method did not work for you. In the 90% cases, method #1 works
Method #2: Troubleshooting Battery
Click on the start button and click on settings.
Click on Update and Security.
Click on Troubleshooting from the left-side pane.
Select the power option from the right-side pane. Then click on "Run troubleshooter". It will be starting for troubleshooting your battery power problem and fix it automatically.
Sometimes this method will work for you. If it doesn't work, then try the next method.
Method #3: Restore BIOS to its default settings.
Turn off your computer and boot it up into bios. Make sure your laptop it turned off completely.
After turned off, press the power button of your laptop and the continuously press the F10, Delete key from your keyboard to enter BIOS settings. Your bios open key might be different according to your computer laptop's manufacturer.
After getting the bios settings page, press the "F9" key to set default from your keyboard. I will be asking you to save the settings. After that select "Yes" using arrow keys and press enter key to save settings and reboot the computer with default bios settings. After this, your problem should be fixed. If it did not work, then go to the next step.
Method #4: Replace the Battery or Charger.
Try to use another laptop's charger. If it will work for you then the problem is in your charger, please replace it. If it doesn't fix the problem after replacing the charger, then replace your battery.
Was this article helpful?
Let us know if you liked the post. That's the only way we can improve.