Free on demand virus scanner utility
Dr. Web CureIT is a utility to scan your computer from malicious objects and cure them or to fix them quickly. Dr. Web CureIt provide this utility for Free for personal usage. But for commercial or business use user to purchase the license. Dr. Web CureIt is simple to use software which can even run if you already have other antivirus software installed. It scans the malicious items where other antivirus software leaves them. There is no need to install this software. Just download and run it to scan your computer. After finishing scan you can check the scan report.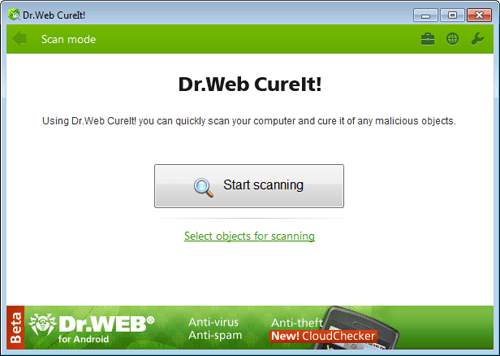 Dr. Web CureIT can detect and get rid of Malware, Trojans, Rootkits, Viruses and other possible malicious and infected files with its on demand scanner. You can scan with three options:-
Quick Scan,
Full Scan and
Custom Scan.
This is a solid on demand virus scanner which is effective and simple. The only downside of this program is that you will see the Pop ups of advertiser or to purchase the commercial version of the software. Obviously if this powerful software is free so we don't have to think about that Pop ups.
---
---
It is available in many languages Russian, Arabic, Bulgarian, Byelorussian, Czech, English, Estonian, French, Georgian, German, Greek, Hungarian, Japanese, Latvian, Lithuanian, Persian, Polish, Portuguese, Slovakian, Spanish, Ukrainian.
This utility is effective in scanning a already infected PC. You can even copy this utility to a USB Drive and scan the computer from USB to remove the infection.
Free Download Dr Web CureIt
Download Free version of Dr. Web CureIt
Please not that free version is only available for Personal and Home computers.