Bitdefender recently launched its newest 2019 series of the products. It is having a totally new revamped look from its 2018 predecessor. They have introduced a dark theme and a new centralized dashboard.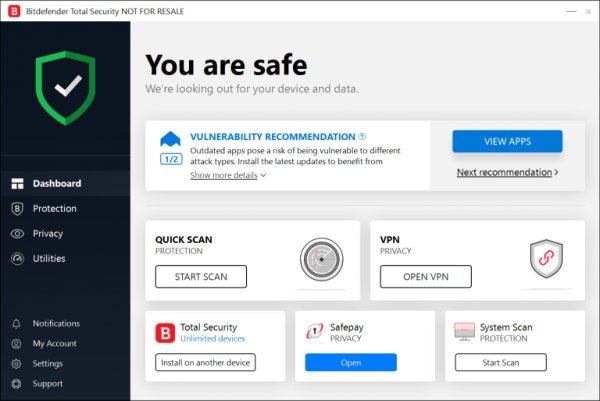 What is new in Bitdefender 2019?
Bitdefender introduces the Multi-Layer Ransomware Protection & Remediation feature to protected the important data from the ransomware attacks.
Online threat prevention – A newly added layer of protection.
Improved Autopilot mode.
Bitdefender 2019 brings a three-layered virus protection. Continuous running file-scanning engines in the background which compare and inspect the code to find out any malware signatures, at the same time a heuristic monitor watches file activities. Anything suspicious goes straight into the company's client-server for analysis and if found harmful its signatures are rolled out daily to 500 million users.
Download & Install
It is easy to download & install. Follow the Download link. You can download a free trial for the choice of your product. Or setup a bitdefender central account to manage security of all your family devices from one place. If you have already set up Bitdefender central account
Scroll to My Devices windows
Click the "Install Bitdefender" in the My Devices tab
A download will begin and will take a few minutes depending on the speed of your internet. Upon finishing you should run the installer.
Before proceeding please choose your preferred language.
Upon completing your preferences click INSTALL upon completion of the installation a summary will be displayed and if there was any malware removed a reboot will be required.
To continue click the START USING Bitdefender button. The Subscription plan shall give you details of your active subscription.
Just Click the FINISH button when the process is done.
Upgrade & Renewal
During installation it will show you a warning that previous version has been detected and it will automatically remove that and install the new version by remembering your old license key. It will keep remember you old key and you don't have to do anything to register or activate your latest version. It will get activated automatically. If you are having any issue you can uninstall previous version and note down the activation key and use it when you install it manually. You can download Bitdefender uninstaller from here.
Get 50% discount on upgrade or renewal
---
---
Products
As we all already know that only antivirus is almost of no use these days. So Bitdefender is focusing mainly on its top product Internet security packed with all the security features. You will found 3 editions of the products. You can choose as per your requirement. Here is a short comparison between these.
Product
License for devices
Per Year
Supported devices
Price
Internet Security
3
PC Only
–
Total Security
5
PC, Mac, iOS Android
–
Family Pack
15
PC, Mac, iOS, Android
–
Bitdefender also have other products for small businesses and enterprises. For smart home devices there is a hardware device introduced is Bitdefender Box. This provides the protection for all internet connected devices.
Important features & functionalities
Bitdefender come with a heavy punch of features that are rare or nonexistent in another antivirus on the market. The following are the features of BitDefender Antivirus 2019
File shredder: This functionality makes it impossible for one to recover files that you have permanently deleted from your computer.
Hosts file scanner: This application helps you to block unwanted websites or applications from communicating with their upgrading servers.
Security Widget: This displays one's computer health and corresponding computer protection level.
Password manager and wallet: This comes in handy for anyone who has multiple passwords it helps you to keep them in one accessible pool.
Safe Pay: a handy application that allows you to safely transact online using a separate window to help log in to a transaction is a safety catch.
Two-way application scanner: the software has been upgraded and now helps to monitor not only incoming connections but also the outgoing one.
Anti-theft option.
Real-time protection.
Webcam protection.
Ransomware protection.
Automatic software update.
WiFi security advisor.
Comparison with other security software
We are providing here a brief comparison with other antiviruses. We only mentioning the unique differences between these security software as all other common things are equally good in all these. We are providing the price for higher licenses with maximum features. Other options also available on the respective websites.
Bitdefender vs Norton
| | |
| --- | --- |
| Bitdefender | Norton |
| – | Norton provide a 100% virus free guarantee or refund. |
| – | 25 GB secure online data backup |
| VPN Included with 200mb / day / device | It is optional with extra cost ($79 / year) |
| Game mode option | Game mode option not available. But we found it works fine in full screen mode |
| Safe Pay – Dedicated browser for banking transactions | – |
| Safe file & File encryption option | – |
| Password Manager | – |
| $119 / 15 devices (40% discount available) | $109 / 10 devices (55% discount available) |
Bitdefender vs Kaspersky
| | |
| --- | --- |
| Bitdefender | Kaspersky |
| – | Privacy protection |
| Game mode | – |
| $119 / 15 devices (40% discount available) | $149 / 10 devices (50% discount available) |
Bitdefender vs Avast
| | |
| --- | --- |
| Bitdefender | Avast |
| – | Browser cleanup |
| – | Automatic Software updater |
| Safe Pay | – |
| VPN Included with 200mb / day / device | VPN optional (extra $79 / year) |
| $119 / 15 devices (40% discount available) | $134 / 5 devices |
Discount
Bitdefender is providing a 50% discount as cyber security awareness month sale. for more coupons visit: Antivirus coupons