Devices are becoming popular each day and accessory manufacturers are taking notice including the Microsoft's Surface book. Microsoft has its latest and greatest edition, the Surface Pro 4 as well as its earlier editions, the less powerful Surface 3 and the more powerful Surface Pro 3. Whether you want to keep your Microsoft Surface Book charged up, or you want ensure creativity with your presentations and arts projects, here are the best Microsoft Surface Book accessories to look for.
Best Accessories for Microsoft Surface book and Surface Pro
The Microsoft Surface Dock
Surface Pen
Microsoft Surface Power Supply
Microsoft Type Cover
Microsoft Wireless Display Adapter
Arc Touch Mouse
Buy Surface Accessories directly from Microsoft Store
The Microsoft Surface Dock
The Microsoft Surface Dock is what you need to turn your Surface book into a desktop computer. All you need is your Surface connect cable and you are good to go. It features two HD Video ports where you can connect extra screens to your device thus expanding your workplace.

The Microsoft Surface Dock also features a Gigabit Ethernet port which is important when connecting to local area networks. If you are the kind that loves travelling for whatever reason, then you'll find it valuable. There is an audio output port also which you can use to turn your Surface into a stereo. Connect your Surface book to external devices such as printers using one of the 4 USB ports.
---
---
Basically, the Microsoft Surface Dock will make your Surface Book a full pledged desktop.
Surface Pen

Perhaps you've never understood how important or beneficial Microsoft's Surface Pen can be to your Surface Book. Fine, let me explain a few things here. With the Surface Pen, you are able to achieve tons of things including opening OneNote with just a click. You can also activate your virtual assistant, Cortana, with a long press and open a screenshot in OneNote by double clicking. You Surface Book works perfectly with the Surface Pen. It makes everything to be fun and practical.
Microsoft Surface Power Supply
This year Microsoft introduced the Surface 65W Power Supply for the Surface Book and Surface Pro 4. This accessory helps in pumping out a massive power of 65 watt thus charging your Surface book quickly.
When the battery of any device runs low, it's usually time to recharge. This applies to your Surface book as well. Although your device ships with a power supply, it is necessary to have a second charger at hand. The Surface Power Supply features a built-in USB port which you can use to charge other devices such as your phone while still working on your Surface book.
Surface Type Cover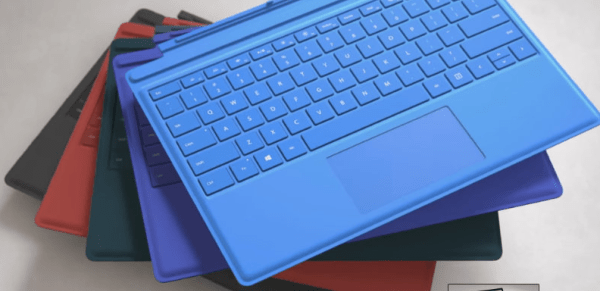 The new type cover is the best accessory to turn your Surface book into a laptop. This year, Microsoft introduced a Type Cover that has a fingerprint ID in addition to the regular Type Cover. If you are a student, you don't want to strain typing your assignments and essays on a touchscreen.
Actually, Microsoft should have offered these keyboards as part of the Surface devices rather than making them an additional accessory. This would have saved buyers from paying for the extra cost incurred in buying this very important accessory.
Wireless Display Adapter
Do you want to turn your device into a multimedia machine? The Microsoft Wireless Display Adapter is what you need. This accessory mirrors or extends your screen and you can easily share anything you create on the Surface with a larger audience. If you want to host a movie night, then this your best accessory to ensure you watch every action on a larger screen.
Arc Touch Mouse
The Arc Touch Mouse tends to appear as though it's unusual but the truth of the matter is that it has been molded specially to fit the size and shape of your hand. It just doesn't behave like the regular mouse you are used to. This is your best mouse if you are going to need one. It connects via Bluetooth and its design makes it easy to naturally fit into your hand. Unlike other mice, the Arc Touch Mouse is obedient. It flattens when you want to store it or when travelling.
Portable Power Bank
Spending long hours on your Surface book with no power supply will limit you especially if you do not have an alternative. You should therefore carry a power bank with you to make sure you can use it for an extended period of time just in case it runs out of charge. The RavPower Xtreme 2300mAh portable Charger Power Bank External Battery Pack is the best accessory to keep your surface book going for long hours.
There are other more accessories also available for Surface Pro and Surface Book. See more Microsoft Surface Accessories at Microsoft Store