The Adware Removal Tool was developed by www.techsupportall.com in 2013 to remove adware from the computer. It's a freeware utility that can be used free of charge, formally known as 'Adware Removal tool by TSA' as well. It is a purely a portable utility, so it doesn't need to be installed on the computer, just download it and use it. The latest version of the ART tool is version 5.1.
Download Adware Removal Tool

powered by TSA
The Adware Removal Tool is for Windows 11, 10, 8.1, 8, 7, Vista, XP and all the Microsoft server editions. Click on the below given download button to download the Adware Removal tool.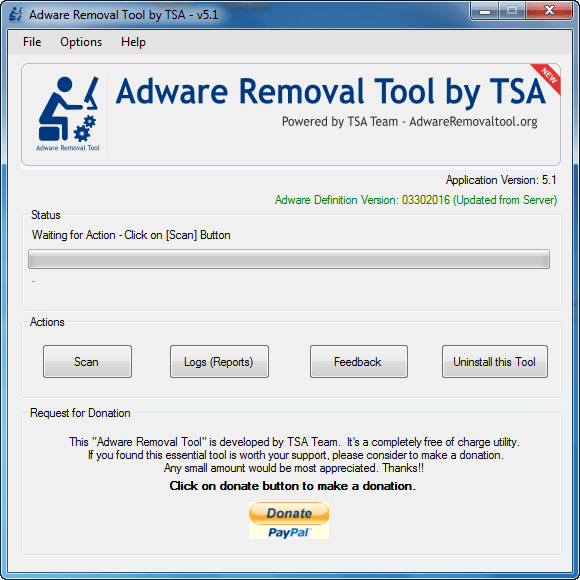 Name:
Adware Removal Tool (powered TSA)
File Type:
EXE (Portable Utility)
Version:
5.1
License:
Freeware
File Name:
adware-removal-tool-by-tsa.exe
Size:
735 KB
OS:
Windows 11, 10, 8.x, 7, Vista, XP, Server 2000 to 2019
Download
Since 2015, we have decided to make a dedicated website (www.adwareremovaltool.org) for the Adware Removal Tool. You can download the tool from its dedicated website as well. You can also download the ART from the following download section. If you are new to using this tool, then follow the below given step by step guide with screenshots / video tutorial on how to use the Adware Removal Tool.
System Requirements:
The Adware Removal Tool by TSA supports the following operating systems: Windows xp, Windows vista, Windows 7, Windows 8, Windows 8.1, Windows 10, Windows 11 and server editions as well. It is important to inform you that this ART tool is required '.Net framework version 3.5'. If you don't have it on your computer, then install it from here.
How to use Adware Removal Tool v5.1
Mentioned the steps and a video tutorial to to learn how to use adware removal tool on Windows.
Steps:
Download the tool from the above given download section.
After that, double-click on the downloaded adware-removal-tool-by-tsa.exe utility.

Click on Yes if UAC confirms from you to run the exe file.

After that, it will ask you to accept the -terms-of-use'. Please read the terms and conditions carefully and click on "I accept".

Once the Adware Removal Tool gets started, it will update the database from its server. It will take a few seconds, so please wait until it is updated in the database.

After updating the database, it is ready to use. Click on Scan button.

After clicking on the scan button, the scanning process will start and it will take few minutes to complete the scans. Sometimes it takes a long time if you have lots of files on your computer. So please wait for it.

Once the scan is complete, it will show you the result window. Click on OK.

You can double-check the scanned results and untick items then you don't want to remove and then click on Clean button. It will take a few minutes to complete the cleaning process.

After clicking on the "clean" button, it will give you a disclaimer message that close all the browsers from your computer to safely remove adware from them. Click on OK after closing all the applications.

Once done, it will you successfully finish the message.  Click on OK.

All done, click on finish. If somehow it is unable to remove particular adware due to some reason, then it will require a reboot to delete the remaining adware. Please reboot if prompted. It will also open up a browser reset window. You can reset your browser from here.

That's it.
Video Tutorial:
---
Features:
This tool is able to detect and remove most of the Adware from Internet Explorer, Google Chrome, Mozilla Firefox, system folders & files and from registry traces as well very easily.
The adware removal tool's adware database is very powerful and it works on cloud based systems. So you don't need to update the adware definition manually, it will be updated automatically every time you run it. The cloud database gets updated regularly for newly discovered adware.
What is Adware
Adware is an unwanted software program that is designed to make money for the creator in some way. It shows pop-up advertisements on your screen or it can redirect you to an alternative website, depending on how the program works.
It is commonly disguised within a legitimate program or web browser and once you click on it you activate it. The aim is to get you to click on it, download it or get exposure to a website it is associated with in order to increase revenue. There are also some pretty malicious adware programs out there that will corrupt your computer, tablet or phone if downloaded when promoted.
Sometimes the first thing you know about it is when you see either a bogus virus message that your computer is unsafe (yes we've all seen it) or you need to install this software to take care of the problem (don't!) Or you will be redirected to a different site than the one you wanted.
Note:  Usually adware is not viruses but ads they show may contain malware or viruses. So it is advisable to install the Best antivirus software on your computer. There are many Free and Paid antiviruses options available in the market. So technically, adware is not a virus, they just fall under potentially unwanted programs. However, adware removal tools are specially designed to remove them.
For Support:– Please contact us for any help and query at our official email address: info@adwareremovaltool.org.