After the release of the Microsoft Surface Pro 7 many tech enthusiasts are curious to know what differentiates it from the Surface Pro 6. Although the changes in the Surface Pro 7 are mostly in internal hardware, but it's surely an upgrade of last-gen Surface Pro 6. Therefore, in this Surface Pro 6 vs 7 comparison guide, we will compare these devices and tell you what the differences between the two are, what their similarities are and what extra features you will get for the extra money you need to pay. If you are thinking of buying a new Surface Pro or you are wanting to upgrade your Surface Pro 6, then this guide is a must read for you.
Specs Comparison
The table below gives the comparison of the major tech specifications for the Surface Pro 6 and Surface Pro 7 devices:
Surface Pro 6
Surface Pro 7
Processor
Intel 8th-gen Core-i5, Core-i7
Intel 10th-gen Core-i3, Core-i5, Core-i7
RAM
LPDDR3 – 8GB, 16GB
LPDDR4 – 4GB, 8GB, 16GB
Storage
SSD – 128GB, 256GB, 512GB, 1TB
SSD – 128GB, 256GB, 512GB, 1TB
OS
Windows 10
Windows 10
Display Size
12.3 inches touchscreen
12.3 inches touchscreen
Display Resolution
2736×1824 dpi, 267 ppi
2736×1824 dpi, 267 ppi
Aspect Ratio
3:2
3:2
Graphics
Intel UHD Graphics 620
Intel UHD (Core-i3)
Intel Iris Plus (Core-i5, Core-i7)
Ports
USB-A 3.0
Surface Connect
Mini DisplayPort
3.5mm audio
microSD card reader

USB-A
USB-C 3.1
Surface Connect
3.5mm audio
microSD card reader
Battery
Up to 13.5 Hours
Up to 10.5 Hours
Display & Design Comparison
There's nothing worth mentioning when comparing the display of Pro 6 and Pro 7. Both these devices come with a 12.3 inch touchscreen display which has an aspect ratio of 3:2. With a resolution of 2736 x 1824 dpi you get pixel density of 267 ppi. These devices use the Microsoft's Pixelsense technology, which makes the display panel highly responsive to pen and fingertip presses. Also, the contrast of the display is appealing and brightness is over 400 nits.
Again in the design department you can't find any difference between the Surface Pro 6 and 7. Surface Pro has always been considered as an elegant device from the Microsoft, maybe that's why they didn't make any changes. The design aesthetics are same for both the devices and they both weigh around 1.7 pounds. The flexibility and the smoothness of Surface Pro's kickstand is equally impressive in both the versions.
Processor Comparison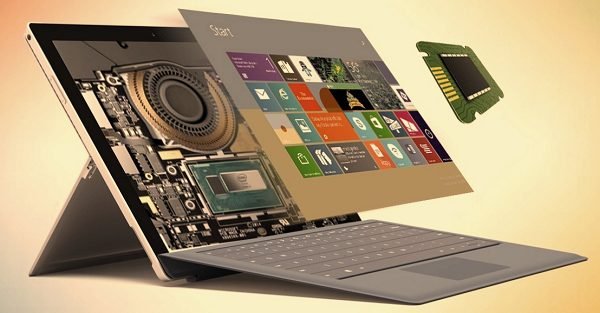 The real difference between the Pro 6 and Pro 7 devices is in their processor. Although both these devices still use Intel CPUs, but Pro 6 comes with the 'Kaby Lake R' processors which are from the Intel's 8th-generation family, while the Pro 7 uses the 'Ice Lake' processor which is from the Intel's 10th-generation family. Another difference is that Pro 6 is available with Core i5 and Core i7 CPUs, but the Pro 7 gives you the option to select from Core i3, Core i5 and Core i7 processors.
---
---
In performance, this difference in processors is easily noticeable as the Surface Pro 7 with Core i5 processor outperforms the Surface Pro 6 which runs on Core i7 CPU. This is a significant difference especially for those who require high performing devices. As for gaming, both these devices don't perform up to the mark, but the Pro 7 with its 10th-gen Intel processors provides a better performance as its more efficient due to its integrated Iris Plus Graphics. Therefore, it's best to use Pro 7 for creative programs like photo and video editors. Since, both Pro 6 and Pro 7 doesn't have integrated GPU option, you will have to spend additional money to make them gaming friendly.
Memory Comparison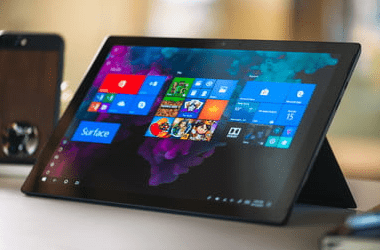 Another difference between the Pro 6 and Pro 7 devices is the RAM installed in them. RAM does effect the performance of a computing device and Pro 7 comes with a LPDDR4 RAM, while the Pro 6 is bundled with a LPDDR3 RAM. Both Pro 6 and Pro 7 offer non-expandable memory as their RAM modules are soldered to the motherboard, which means, just like the Pro 6, you don't have the option to upgrade with Pro 7. Therefore, you must be sure of your RAM requirements prior to buying this device.
As for performance, the difference between the two devices may seem significant on paper, but in real performance a different RAM doesn't offer a significant boost in the results. However, the combination of Intel 10th-generation CPU with LPDDR4 RAM in Pro 7 makes it a much better performing device than the Pro 6. Also, Surface Pro 7 is available in 4 GB, 8 GB and 16 GB of RAM options, while the Surface Pro 6 is available only in 8 GB and 16 GB options.
Storage Comparison
Storage is also an important aspect of a computing device which can affect the usability and performance of that device. Sadly, Microsoft hasn't done anything with Pro 7 in this aspect. The storage options available to buyers with Pro 7 are exactly the same as with Pro 6, which are 128 GB, 256 GB, 512 GB or 1 TB. The drive you get is a Solid State Drive (SSD), which is the fastest and most reliable among all. Apart from the SSD drives, both these devices support microSD card reader, which can be used as a storage expansion option.
Ports & Connectivity Comparison
When it comes to ports both Pro 6 and Pro 7 have USB-A, Surface Connect, 3.5mm audio and a microSD card reader. However, Pro 7 improves connectivity over the Pro 6 by offering the much more versatile USB-C connectivity port. This addition in Pro 7 is at the cost of the Mini DisplayPort which is available in Pro 6, but this sacrifice is worth it, as it offers higher data transfer speeds and supports most modern peripherals.
With both these devices you get Bluetooth and Wireless connectivity feature. In the Surface Pro 7, Microsoft has introduced Wi-Fi 6 connectivity, which has the capability to offer wireless speeds much higher than the speeds of Wi-Fi 5. In the Pro 6, this connectivity feature was absent which makes Pro 7 better in this aspect.
Battery Life Comparison
For any portable device its battery life is an important factor. And most people will think that Surface Pro 7 with its latest hardware configuration will beat Surface Pro 6 in this factor, but actually it's the opposite. The Pro 6 comes with a 45 Wh Lithium-ion battery and the Pro 7 is bundled with a 43.2 Wh Lithium-ion battery. As you can see that there is a slight difference in their capacity, but this slight difference becomes significant in real-life deliverance.
In actual usage, the Surface 7 can last up to 8 hours after full charging, while the Surface 6 can go up to 10 hours. These working hours will come down further for both these devices if you use them primarily for watching videos or playing games. This difference in the Pro 6 and the Pro 7 battery time is because the latter is a high performer, which means it consumes more energy. In short, it's a trade-off you will have to make if you want high performing Pro 7. If battery time is very important for you, then Surface 6 is a clear winner.
Upgrading your Pro 6?
Usually it's seen that when a new version comes out the older version of that device loses its appeal among buyers. However, this is not the case with Surface Pro 6. You still get in this device a reliable option to get good performance at a reasonable price. The design, display and quality of Surface 6 is as good as that of Surface 7, but you will miss versatility of USB-C port. Although, you will get lower performance than Pro 7, but Pro 6 covers it with improved battery life.
My Final Verdict
In this Surface Pro 6 vs 7 comparison guide, we have found that both these devices have very few differences and despite being an older version of Pro 7, the Pro 6 is better in some aspects. Although both these devices look identical physically, but Pro 7 is a better performer and more versatile due to its new-gen CPU, faster RAM and USB-C port. Also, Pro 7 offers a bigger collection to choose from as it's available in three different processor types and three different RAM sizes. As for Pro 6, it may be old, but it's cheaper and offers longer battery life.
Since, both these devices are quite similar there is no clear winner. Therefore, if price and battery life is important for you, then Pro 6 should be your choice. However, if you want performance and versatility, then Pro 7 is the right device for you.