You are on the right page if you want to know, how to uninstall the Microsoft camera software from Windows 10? In this article, we'll give you the step by step guide, how to uninstall / reinstall camera app in Windows 10.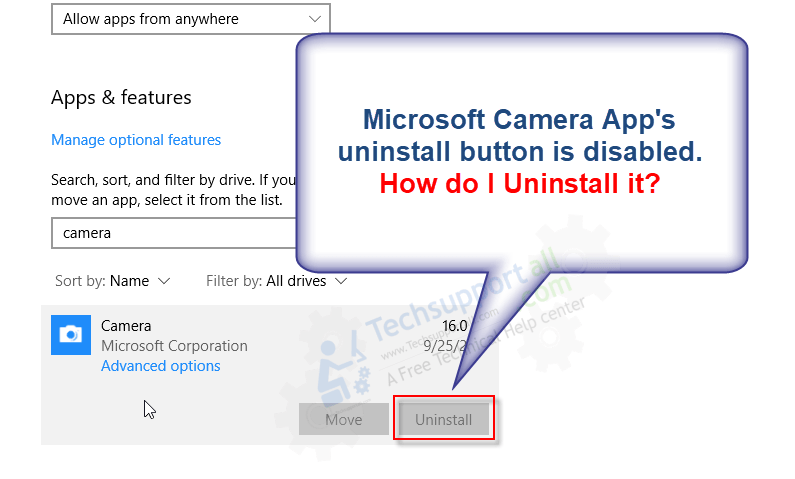 Uninstalling the Camera app from Windows 10 settings is quite typical because its uninstall button is disabled by default. It is disabled because Microsoft has restricted the user to uninstall the Microsoft inbuilt apps easily.
Fortunately, there is a way to uninstall/reinstall the Microsoft camera app in windows 10 through Powershell command prompt. You just need to run three simple commands in the powershell to completely uninstall the Microsoft Camera App from the computer. After uninstall, you can easily reinstall it from the Microsoft app store. Before reinstalling the camera app, we suggest to reset the Microsoft camera app to its factory settings.
How to Uninstall / Reinstall Microsoft Camera App
[Steps]
Follow the following steps to uninstall camera app and then re-install it from the Microsoft app store. Please check out steps below.
Press Windows + X key together to open the option menu.
Click on "Windows Power Shell (Admin)"
Run the command in the power shell: get-appxpackage -allusers
Look for the "Microsoft.Windows.Camera"
Select the PackageFullName content from there. In My case it looks like this: "Microsoft.WindowsCamera_2019.425.30.0_x64__8wekyb3d8bb"
Type following command in the power shell: remove-appxpackage then paste the copied path and the press enter. Your command should be looks like this after pasted: "remove-appxpackage Microsoft.WindowsCamera_2019.425.30.0_x64__8wekyb3d8bb". After that your Cemera app will be uninstalled completely.
Reinstall Microsoft camera app

---
---
Open the Microsoft app store and search for the Microsoft Camera app (Official) and then reinstall it by clicking on the install button.
Watch this video tutorial to know how to uninstall/reinstall Microsoft camera app.