It's rare to come across a desktop computer with Wireless LAN or WiFi hardware already installed in it. In this case, many users who want to connect wirelessly have to choose between two common solutions: a USB WiFi dongle or a PCIe WiFi card. However, the case remains: which is better, PCIe WiFi card or USB WiFi Adapter?
First of all let's find out, what is a WiFi Adapter.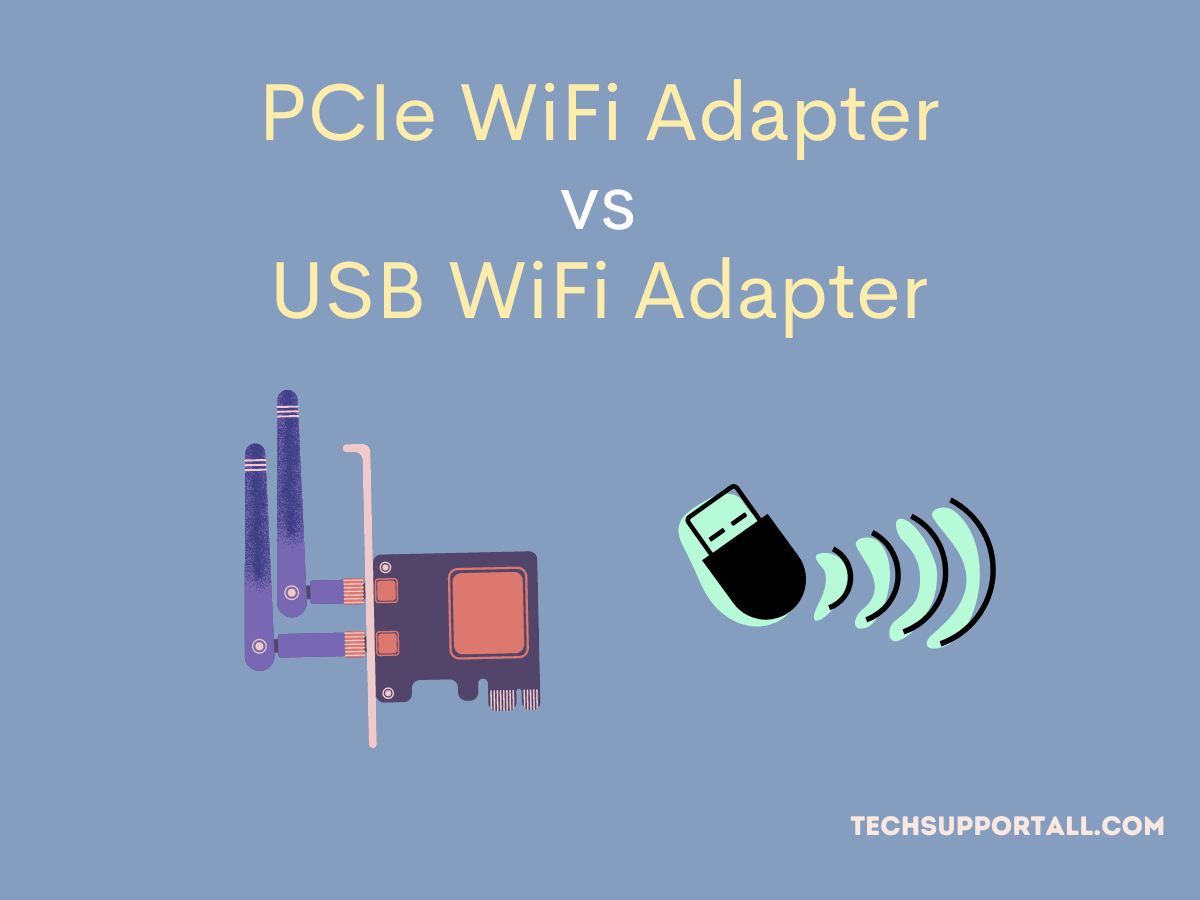 What is a WiFi Adapter?
A WiFi adapter is a device that connects your computer or laptop to a wireless network. It allows you to access the internet without having to use an Ethernet cable. WiFi adapters come in different shapes and sizes, and they can be used with both laptops and desktop computers. With the help of a WiFi adapter, you can easily connect to any available network.
Types of WiFi Adapters
There are mainly two types of WiFi Adapters. Internal WiFi Adapters and External USB WiFi Adapters.
1) PCIe WiFi Adapter
A PCIe WiFi adapter is an internal wifi card that can be inserted inside the PCI express slot of the motherboard of a desktop PC. Find out Best internal PCI WiFi cards for desktop
---
---
Pros
Faster as compared to USB Adapters.
More stable connection.
Cons
Need to be installed inside the computer.
2) USB WiFi Adapter
A USB WiFi adapter is a device that can be attached to the USB port of a laptop or desktop PC to receive WiFi signals. Though laptops comes with inbuilt wifi adapter, but if you require to upgrade a WiFi card then USB WiFi adapters could be the quick and easy option. Otherwise you can buy an internal wifi card for laptop.
Pros
Plug and play. Easy to install.
Cons
Slower as compared to PCIe adapter.
Both adapter have their own pros and cons. Let's find out the difference between PCIe WiFI Adapter and USB WiFi adapters.
Comparison between PCIe and USB Wireless adapters
comparison table USB vs PCIe wifi receivers.
| PCIe WiFi Adapter | USB WiFi Adapter |
| --- | --- |
| PCIe WiFi card is used inside the desktop computer casing in a PCI Slot or inside the laptop. | It is a dongle like device which is attached to the USB port of a computer or laptop to connect to the WiFi network. |
| It is installed internally and require a driver to get started | It is a plug and play device attached externally. Drivers are usually get installed automatically. |
| Better speed and range coverage | Slower as compared to PCIe Adapter. |
| It is recommended over USB adapter for streaming and gaming purpose. | Good for normal use |
My experience with both type of WiFi adapters
It was the time of lockdown when I tried to connect the desktop PC wirelessly to my existing router's WiFi network for my child's zoom classes. I chose the USB WiFi adapter as it was easy to connect, so I ordered one from Amazon.
But my experience with the WiFi adapter was not great, as in Zoom meetings it was disconnecting frequently due to poor connectivity. My router was in the other room on the same floor.
I was in doubt that it is the issue of my router's range. But WiFi was working fine on my mobile phone.
Then one of my techy friend told me to try the PCIe card. I ordered the PCIe WiFi adapter, and the performance was really impressive. It solved the issue and worked great in the Zoom classes.
Another catch with this case is that I used the USB Adapter without antennas, But these days WiFi USB Adapters with antennas are available on the market. So result could be different, because I have not tested the one with Antennas.
Which one to choose? USB vs PCIe
If you can open the desktop casing, then choose the Internal PCIe based wifi card otherwise USB wifi dongle is the best option. If you are using a computer for gaming or high internet bandwidth application then my recommendation is to use an PCIe card otherwise USB card will also work well.
Let's find out deals on these WiFi adapters.
PCIe WiFi Adapter deals
Find some best deals on WiFi cards to install internally in PCI slot of the motherboard.
USB WiFi Adapter deals
Find some best deals on WiFi Adapters which can be connected to USB port