Nowadays, every net user needs a password manager that is both easy and safe to operate. In this category, LastPass is a highly reputed name with more than 17 million users all-over the world. Many people claim it's the best password managing service, so we decided to test this claim. In this LastPass password manager review, we will look at the features and services offered by this password manager from various aspects, so that you can judge the value it offers to its users.  
LastPass Salient Features
LastPass offers features that go beyond managing passwords. This platform is designed to streamline your web experience whether you are an individual or a business. In LastPass, you can store all kinds of sensitive information, such as digital notes, credit card details, Wi-Fi passwords and login passwords. The features like auto-syncing of data, emergency access, password generation, one-touch login and password sharing are especially beneficial for businesses.   
LastPass has many more advanced features which makes it a great password management service for businesses. For instance, LastPass integrates MFA services with password management thereby securing every access point accessed by the devices in your business. Also, IT administrators can also leverage up to 100 policies for data control and user management using its advanced administrator controls.
LastPass Plans and Pricing
LastPass offers great value to its users by providing features which are usually absent from other password managers. The free plan for LastPass allows its users to store unlimited passwords across unlimited devices. Free users can trial their premium service for 30 days without providing their credit card details.
LastPass Premium offers one-to-many sharing and emergency access along with all the features you will get in the free plan. The next plan is the LastPass Families plan where you get unlimited sharing and support for multiple users in addition to the features you will get in the Premium plan.
---
---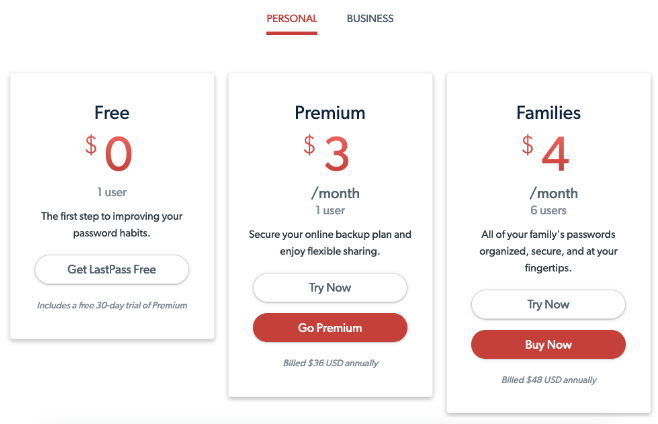 The most advanced LastPass plans are for business users, which are divided into Teams, Enterprise and Identity options. These plans include easy to read reports, a password vault for each employee which is controlled by the company and easy to use admin dashboard.
LastPass User Experience
The user experience of this password manager is really impressive. You can efficiently synchronize passwords with little or no lag. Using multiple browsers and devices is as seamless as claimed by the company. Navigating through the multiple features of this password manager is very easy due to a well-designed user interface.
The performance of LastPass is uniform across various platforms, be it iOS, Android or Windows 10. One feature that really improves user experience is its ability to compartmentalize data into multiple menu options. With the help of this feature you can properly organize your credit card details, digital notes, addresses and passwords.
LastPass Security
The security offered by LastPass has multiple layers which includes password auditing and military-grade encryption. This security cover is provided over the entire password vault. Therefore, it's almost impossible for a hacker to break this security cover and get access to your sensitive information.
Despite such high levels of security features, your access to your information is fully ensured. If you lose your master password, then LastPass offers you the option to make multiple account recovery. This is a vital feature which you will rarely find in any other password manager.
Conclusion
LastPass is not only safe, but also easy to use password manager. The advanced range of features offered by this password manager improves its overall value. The multiple account recovery option and the automatic password changer are really impressive features which you will rarely find elsewhere. Despite these advanced features, LastPass is highly affordable for all types of individuals and businesses. It can be safely said that LastPass is definitely the best-in-class password management solution.