After Creator update, Night light became a ranted features of Windows 10. Night light is one of the useful feature of Windows 10 to reduce the blue light of the screen.  Some Windows users were using a third party application such as flux to synchronize brightness and color temperature with the clock to get rid of eye problems.
Researchers stated that the blue light from most of the computer display can interfere with sleeping and cause eye strain. In order to save eyes and reduce the effect on sleeping, Windows 10 added this Night light feature to reduce brightness and shifting color temperature towards the warmer, redder end of the spectrum.
Theoretically, this should minimize the negative effect of sitting in front of the computer too long.  So, this article explains how to use the Night light feature of Windows 10 to reduce the blue light and save your eyes.
How to enable night light in Windows 10?
As the Creators update comes with Night light feature, you need to have the Windows 10 version upgraded to Creators update or later. You can access the feature from Settings and enable or disable as you required. To enable Night light feature, follow the steps below.
Step 1: Click Windows Key and select Settings. A new Settings window will appear.
Step 2: Click System from the Settings window.
Step 3: From Display setting, you will see Night light on the right tab. You can turn it  On / Off as per your requirement.
Click on the night light settings link to configure night mode. You can set the color temperature and schedule for automatic on / off.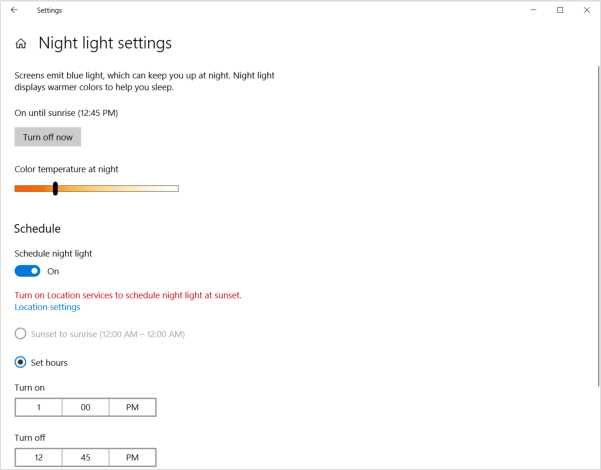 Key benefits of using Night light
Night light can help reducing blue light of your display, thus reducing the eye strain.
It can also improve the effect of sleeping based on your active hours and uses of the computer at night.
As it's a built-in feature, you don't need to install any third party application and there's no risk of downloading software from the internet.
When shouldn't you use Night light?
If you are working on some media files, such as graphic works, video editing, or enjoying Netflix, enabling the Night light feature can really mess with the original viewing experience. As Night light reduces blue light and works with adjusting color temperature, graphic sensitive media can look different than it should be. So, to get the accurate experience in such work, you should disable Night light. But, if you are working with MS Word, Spreadsheet or checking a long email list, Night light can give you more comfort than usual.