No doubt dark mode is trending these days, whether it is on a computer, laptop, tab, phone, etc. We'd like to turn your attention to Google Chrome's Dark Mode.  It is quite popular these days. If you're still not aware of the 'Dark Mode' then read this article to get detailed information about dark mode. Read below to find out what it is and how to turn it on and off.
What is 'Dark Mode' in Chrome?
Dark Mode is a color theme that changes the background color of your application to black. It is simply a black theme for the Chrome browser. The purpose of Dark Mode is to minimize the light emitted by the screen. So it turns the not usable area of the screen to black and highlights the text with white color. Youngsters like this dark theme very much these days. Developers of the black theme say it's very efficient to save energy as well. Learn more about Dark Mode on Google Chrome.
Chrome Normal Mode vs Dark Mode
Can you imagine a Google Chrome browser that comes with a built-in dedicated dark mode? Yes, it is true that the chrome started giving the built-in dark mode in Google Chrome from 74 version. This is good news for those who like the dark theme. Even though it is an experimental feature, Google keeps it in the main settings page as a permanent feature. Let's learn more about how to enable and disable dark mode in Chrome on different operating systems and devices like Windows, Mac, Android, and iPhone.
---
---
How to Turn ON Dark Mode on Google Chrome
Steps to turn on dark mode in chrome for Windows users
To enable dark mode, you will need to switch your Windows 10 operating system to black theme, and your Google Chrome browser will also switch automatically to dark theme as well.
But what if you don't want to switch the whole operating system to a dark theme and want to switch only the google chrome browser to dark mode? The good news is, it is possible. Jump to the steps to see how we can achieve it.
Note: The option to Enable Dark mode in Chrome is not visible under its default settings. This option is under the default app mode (Chrome's experimental settings page). Here are the steps to activate it.
Steps
First, enable the dark mode of Windows 10. Here's how to enable dark mode of Windows 10.

After that, your Google Chrome looks like the screenshot given below.

If you want to enable dark mode inside the Google Chrome browser, then apply step 4 to step7.

Type this chrome://flags text in the navigation bar (Address bar) and then press Enter. See the following screenshot below.


Note:

To activate dark mode in Google Chrome, you will need to enter  the Chrome flag. This is an experimental feature, which can be accessed by entering a URL in the navigation bar. On the other hand, these experimental options are not included even in the beta versions. You also get this option based on your system preferences.



Then just type dark mode in the search bar to find Force Dark Mode for Web Contents.

As you can see, there are 7 modes available. So first we'll try the Enabled mode. Choose the enable option from the drop down menu.
As mentioned, there are 7 different dark modes. Below, I show you each of them so that you have the freedom to choose the one you want. Simply select Enabled from the drop down menu and then close the chrome browser and then reopen it again to make the changes.
That's it, you'll have to restart your google chrome to take effect of the changes. The dark theme will be enabled when you restart the chrome.
Video to Enable Google Chrome's Dar Mode on Windows 10 PC
Steps to turn on dark mode in chrome for Mac users
Using a MAC instead of a PC tends to make almost everything more difficult. As with almost every website, every app, every web browser is created with the idea that a PC user is going to be the one using it. Sometimes, things like changing the theme of your browser can be unnecessarily complicated if you are a Mac user so today, we are bringing you a tutorial on how to enable dark mode in Google Chrome on Mac OS:
Click on the Apple Menu and then from the System Preferences.
Click "general" and then, select one of the Appearance options that will appear at the top of the screen: light, dark or auto (which will show up as light by day but dark by night).
Google Chrome will automatically match the option you selected: it will appear as white in light mode and as black in dark mode.
That's it ! While this process is a little more laborious than usual, it is not all that difficult !
Steps to turn on dark mode in chrome for
Android Phone users
Easy Steps To Enabling Dark Mode On Your Android Phone
First, open your Google Chrome browser and make sure that it is updated to its latest version. An up-to-date browser will work the most efficiently. Once you have made sure that your Chrome Browser is updated, you can move on to activated dark mode.
In the upper right corner of your Chrome browser, click on the three dots. This option will open up a menu with numerous tools.
Next, tap the 'settings' option. Settings can be found second from the bottom of the menu.
From settings, select 'themes', which is located above 'advanced'. You will see an option to enable dark mode.
Toggle dark mode on and enjoy browsing on a dark gray background. Dark mode is especially excellent at reducing eye strain or dazzling you with overly bright light when you wish to browse the internet at night.
How to enable Dark Mode in Chrome on iOS / iPhone?
A lot of times it is more complicated to adjust our settings and adapt the interface on our phone when using our iPhone, as most browsers and websites think of Android users as the average; but making your phone look as you want it to isn't impossible either. In this tutorial we will give you the steps to enable dark mode in Google Chrome if you are an iPhone user:
Open the Control Center and hold down the Brightness indicator (the icon that looks like a Sun next to the on-screen volume control).
Wait for the full screen interface to open up.
Click on the Appearance toggle at the bottom left of the screen. It is automatically set to light mode, but if you click on it once it turns set to dark mode.
Google Chrome will instantly apply the dark theme you choose.
It is as simple as that: perhaps a bit more time consuming than habitual but not impossible !
---
More about Dark Mode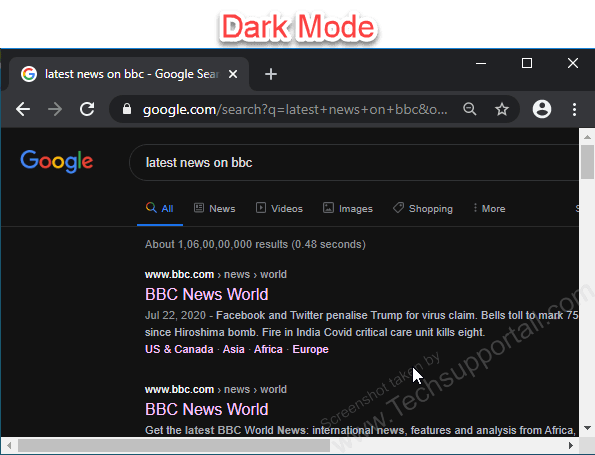 Dark mode is energy efficient
Along with the good looks of the dark mode, it is more energy efficient than normal mode. Actually where the black screen is displayed computer or any other device doesn't use graphics there. That's why it is power
saving.
Dark Mode Device Integration
Many programmers include them as an option in their apps. On the other hand, Windows also has its own Dark Mode. However, this aspect includes some aspects of the operating system. Therefore, web browsers still display pages in the default mode. In this case, the contrast may be harmful. Google Chrome for Windows 10 is in built-in dark mode.
Update Chrome browser before enabling Dark Mode in it
Google Chrome's update version 74 brought the dark mode into settings (experimental settings). Hopefully this will be regularized in the next beta version. We are already seeing dark mode in Windows 10. We can call it a dark theme as well. It is a very light mode (Light theme) as well. But make sure you have the latest version of your Google Chrome browser. The dark version of the chrome will be enabled automatically. The color scheme of this theme will be black. The system default method theme is simple white.
Before this Google Chrome update (74version) we had to use some dark mode chrome extension to enable dark mode. But
now that time has gone by and now you can enable the dark theme in a few clicks without any add-ons by going to the settings menu.
You will get this Google Chrome updated dark mode in Windows 7, Mac OS and other operating systems. For Macs, this update is known as the Google Chrome 73 version update.
My view on it
This way we have seen how to enable the dark mode (Dark theme) in Google Chrome. Please note that some sites will not look good at first. Therefore, it is convenient to try the different modes until the content looks better and save the battery of your laptop, android or any other devices.