In Windows 10, the default browser is the Edge browser. And in Edge browser, the default homepage is MSN / Yahoo. Some users want to change their homepage. Sometimes, adware has changed the homepage settings of edge, because of you that you need to revert the homepage setting. It is quite simple to set a specific start page in edge.  Here we'll guide you with step by step instructions on how you can change the homepage in an edge browser. Please follow the following steps: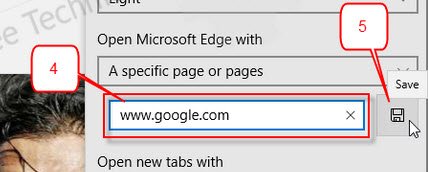 Steps
how to set the homepage on edge
Open Edge Browser
Click on the options button (3 dots) button from the top-right side corner.
Click on "settings."
Click on the drop-down menu of "Open Microsoft Edge with."
Turn the button ON of "Show the homepage button" and choose the option "A specific page or pages"An edit box we'll be shown beneath; named "Enter a URL."
Type the website's domain name / URL, which you want to open up at startup. Then click on "Save" button in front of "Enter a URL" edit box
Close the edge browser and re-open it again. Your specific homepage has been set as the default homepage.
If you want to change to home button's homepage, then follow the following steps.
Go to edge settings.
Then click on Show the Advance Settings
In advanced settings, you'll get the option on the top "Show home button" on/off  toggle and its homepage settings in dropdown menu. Turn ON this toggle button. After that choose the option "Set a specific page" from dropdown menu, and then type the URL which you want to open when you click on the home button. For more detail see screenshot 5.
For more detail, see the screenshot below.
---
---
Screenshot 1
Screenshot 2
Screenshot 3
Screenshot 4