ESET is among the notable global players in the malware protection game. Founded in 1992 in Slovakia, ESET started its journey in 1987 when it released its first antivirus. Since then it went on to stretch to a global level and now features popular antivirus and internet security products.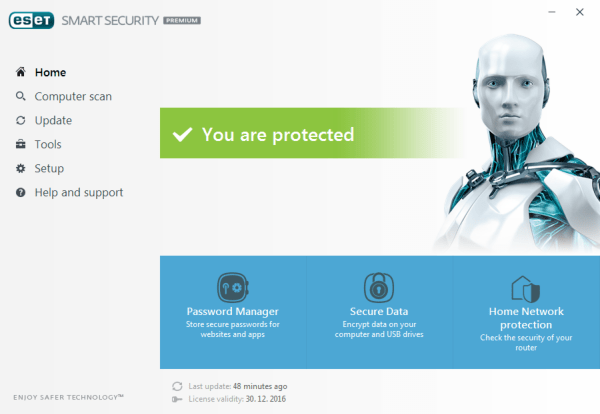 Download ESET 2017 (version 10)
Choose from the various products of eset like Antivirus, Internet Security, Smart Security for hom users. Apart from home users ESET is also providing business products.
Click to Download ESET 2017 Trial.
Below is a table to choose the right eset product for your computer. See the comparison table.
---
---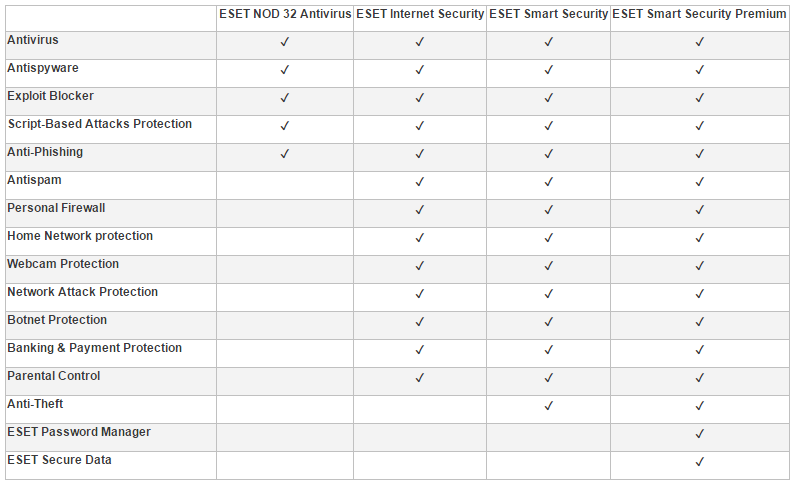 Install, Upgrade and Renewal
After download it is very easy to install and activate the ESET subscription. Existing users can upgrade by uninstalling old version and installing the latest version. Use the same subscription key to activate your existing plan. If your subscription is near to expire or has been already expired then you can choose the renew option to renew your subscription. You don't have to install it again on your system.
In case if there is any issue in the installation or re-installation process. Then its official eset removal tool can be helpful. Use this tool to remove the software completely from the device. This can solve most of the problems. Still if you have some issues then you should have to contact ESET Technical support team for the assistance.
Click here to renew the ESET with 25% off
ESET Coupon codes
The best way to buy Eset in cheapest price is to search for the promos. Check the latest Eset Coupon Codes at antivirus deals page on our website.
What is new in ESET 2017?
ESET's latest offering (Version 10) is designed for efficient use of system resources. It allows you to enjoy your computer's performance while defending against new types of threats. There are various types of malware such as viruses, rootkits, spyware, and Trojans and ESET will protect your computer from all of them. The software does an outstanding job in scanning files, removing /detecting threats. It scores highly among some of the best antivirus programs available in the market. Below are the features that ESET improved or added in its latest version 10 for year 2017.
Webcam Protection
Do you know that hackers can access your web cam. Well, that's pretty scary. Webcam hacking incidents happen frequently, and any connected camera could be the source of the hack — from your mom's favorite baby monitor Nanny Cam to your laptop's webcam. So how can ESET defend you from webcam hacking?
ESET's webcam protection ensures that when you are using your computer or laptop, your privacy is not compromised by anyone taking, or sharing, photos, videos or voice recordings of you taken without your permission. It monitors processes and applications which have access to your webcam, and informs you if a potentially unwanted program wants to access your webcam or microphone.
Script-Based Attack Protection.
ESET 2017 includes a new script-based attack protection system to thwart JavaScript and Windows PowerShell attacks.
A script-based attack framework is a new type of cyber-attack platform written in various scripting languages. It carries various attack scripts targeting vulnerabilities across different systems. It also supports development of attack scripts that can exploit zero-day vulnerabilities. With the high productivity of using scripting languages, attackers can easily develop new attack scripts to exploit new vulnerabilities. To launch an attack, an attacker runs an attack script on the framework remotely. By probing a vulnerable target over the network, the attack script dynamically composes an attack payload, and sends the payload to the target to exploit the vulnerability.
The list price of ESET's script-based attack protection feature ranges from $40 for a single PC to $80 for five.
ESET Secure Data
Available only on the premium version, this feature allows you to create encrypted directories on removable drives. After encrypting your drive, if you connect your removable drive to a computer where ESET Secure Data is not installed, the encrypted folder will not be visible. If the removable drive is connected to a computer with ESET Secure Data installed, you will be prompted to enter the password to decrypt the removable drive. Encrypted folder cannot be accessed without a password.
Home Network Protection
It doesn't matter whether they're wireless or connected by cables, routers and other devices on your home network are easy targets for hackers. Hackers will easily compromise your router to access your web cam, personal data or use your internet bandwidth for free, while you pay.
If your wireless network consists of a router, several computers and mobile devices, a slew of wirelessly networked printers and smart TVs, and a Wi-Fi enabled security system, the task of protecting the network will be very difficult. But with ESET's new home network protection feature, you no longer have to worry about the security of your home network. This feature blocks WiFi network threats. It shield your router and show you who is connected to it.
A big home network protection panel is provided on which found devices appear as icons in concentric rings, with your local device and its router in the center. Clicking any icon gets you a detailed description, including the device name and type. A scan router function is available to scan your router's security. This runs simple penetration tests on your router. If your settings aren't secure, ESET will tell you how to fix them.
Password manager
This tool protects your passwords in the event a hacker accesses your computer. Passwords especially to email and online banking sites are vulnerable during an attack, since they can be used in stealing your identity, so the ESET password manager is an important part of computer protection.
You start by creating a master password, which must include uppercase letters, lowercase letters, and digits, and must be at least eight characters long. You can optionally enter the master password, or any password, by clicking keys on a virtual keyboard. The password manager integrates with Chrome, Firefox, and Internet Explorer. It captures credentials when you log in to secure sites, and offers to fill in your credentials when you revisit the site.
Compatibility
ESET now fully supports Microsoft Windows 10. However, only Windows 10 build 10074 is supported. If you are using old ESET product you can upgrade, free of charge to the new version of ESET Internet Security 10 as long as your license key is valid.
ESET Smart Security Premium also supports the most popular screen reader JAWS.