Windows Defender is an official Microsoft antivirus program for Windows OS. It was available as an additional for older windows but it comes inbuilt with Windows 10. In previous version it was known as Microsoft Security Essential (MSE). From windows 8 Microsoft removed MSE and replaced it with new Windows Defender.
In Previous versions it was not as effective as of other available Free Antivirus Software in the market. But with the release of Windows 10 now Microsoft is also paying attention towards its Windows Defender. They are trying to make it better day by day. Now many people are using windows defender as their only security tool for basic protection. With its latest PUA protection it become more stronger to protect computer from Potentially Unwanted Application (PUA) or Potentially Unwanted Programs (PUP), Adware, Malware etc. But this PUA protection comes with opt-in option, So users have to enable it first to make it work. After enabling it windows defender can detect PUP / PUA, Adware or any other unwanted bundled software.
How to enable "PUA Protection" in Windows Defender
1. Type regedit in Run dialog box and press enter to open registry editor.

2. Go to HKEY_LOCAL_MACHINE \ SOFTWARE \ Policies \ Microsoft \ Windows Defender.

---




---

3. Right click on windows defender and create a new key with the name MpEngine.

4. Now right click on MpEngine key and create new DWORD (32 bit) value with name MpEnablePus with assigned value 1.  1 – to enable PUA protection and 0 – to disbale PUA protection.

5. Restart Computer. After restart please make sure windows defender is running in the background.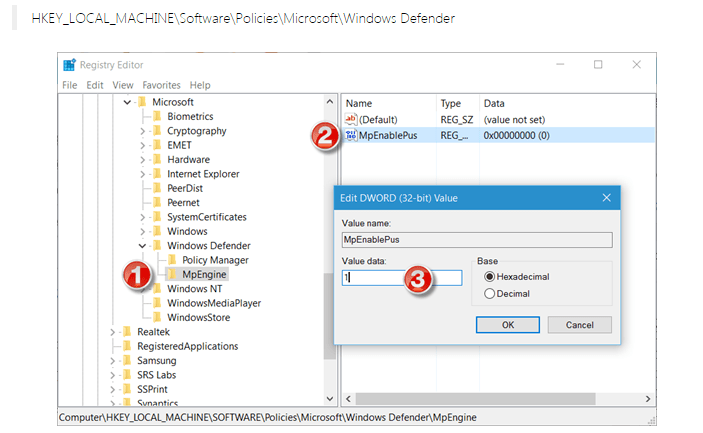 Microsoft regulry update their malware definition as they detect any new threat or PUA. You canc manually check for update by clicking update defintion in Update tab