Have you lost important data like document, photos, videos etc. from your hard disk, usb stick or SD card? Then Data recovery software can help you to get the data back. Data is very important for businesses as well as for home users. But keeping it secure is really a big problem as storage media are not much reliable. Data can be lost due to many reason like virus attack, hard disk crash, hardware failure, deleted by mistake etc. People are also so lazy and do not take the backup task seriously until they loose the data.
Best Data Recovery Software
Below tools are helpful to recover data back if you have lost that by any means.
Best data recovery software for Windows / Mac / Linux
In below table you can find the information that how much you can recover in free mode and which operating system are these software compatible with.
Best Data Recovery Software Reviews
We have also write a brief review of these best data recovery software. Be prepared and backup your data with these best automatic backup software.
1. Recuva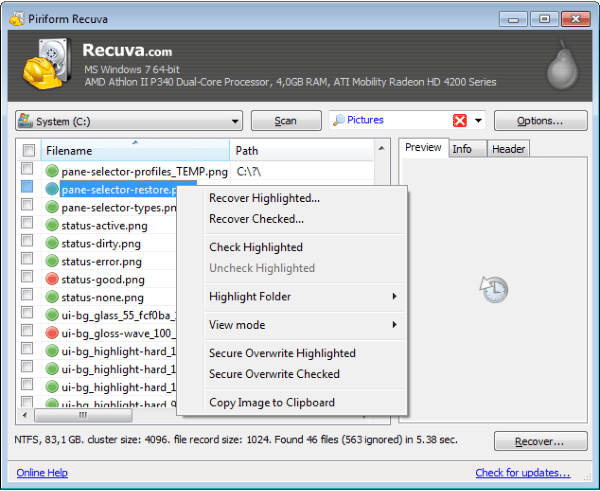 ---
---
Recuva is one of the popular and best data recovery software tool available for Free. It can recover data from Hard drive, USB Drive , CD / DVD and memory cards etc. This software is very easy to use and have very user friendly interface. It supports up to windows 10, but unfortunately Recuva for Mac is not available. It is available only for Windows. Recuva is developed by the Piriform who is popular for its free PC cleaner Software CCleaner. It is available as Portable and as well installer version. If you ever need to recover data then try Recuva First before going for any paid option.
Recover is popular for its free version without any restriction. There is pro version also available which includes Automatic updates, Virtual hard disk support and Premium support.
2. EaseUS Data Recovery Wizard
Download EaseUS Data Recovery Wizard
EaseUS is a leading international software company providing its services since 2004 in the field of Data Backup and recovery. EasUs have millions of customer all over the world. Its popular product is EaseUS data recovery Wizard. It has a simple and user friendly interface. Data Recovery Wizard is available for both Windows and Mac. It can also recover data from iOS and Android but require to purchase separately.
Best thing is that for small users who want to recover data upto 2GB, this software is absolutely free. But to recover more then 2GB you require a paid license. It have different licensing option for different needs. Its paid version is $69.95 for 1 PC or server.
3. Mini Tool Power Data Recovery & partition recovery
Download Mini Tool Power Data Recovery
Power Data Recovery is a product of Canada based software company Mini Tool. Its Power Data recovery software is available for both Windows and Mac. They also have utilities to recover data from Macbook and iphone. Power data recovery is able to recover data from a damaged partition, Inaccessible partition, lost partition, formatted partition. It also provide a boot recovery disk if you are unable to boot device due to corrupted hard disk data. It can recover from almost all media devices.
Mini Tool Power Data Recovery is available for free as well but it has a limitation to recover upto 1 GB of data. So if you have small of data to recover like a few files then you don't have to pay for its license. It is a professional data recovery software and it provide different licenses for Commercial use and Technicians use. It costs $69.00 for perosonal use license for single PC. For business use or for server license it is of $119.00 for 1 server / PC.
4. Active@Undelete Data Recovery Tool Kit
Active Undelete is a product of Canada bases software company Lsoft technologies. After its popular products Active@ file recovery and Active@ partition recovery now they have combined both these features in its complete data recovery tool kit – Active@ Undelete. It is a powerful and fast data recovery tool which can even recover files which are not possible by other software. If you have tried another software without any success we must recommend to try this software.
It is also available with different licensing option having different features. In its ultimate version it include the Boot CD and live CD to handle the no boot situation. It also provide a Free version but in its freeware version only 1 file can be recovered per session otherwise you have to pay for it.
It can restore file, folders, deleted partition, corrupted partition, Corrupted raid system. You can also manipulate its partition table and boot attributes with its disk editor feature.
5. Stellar Phoenix Data recovery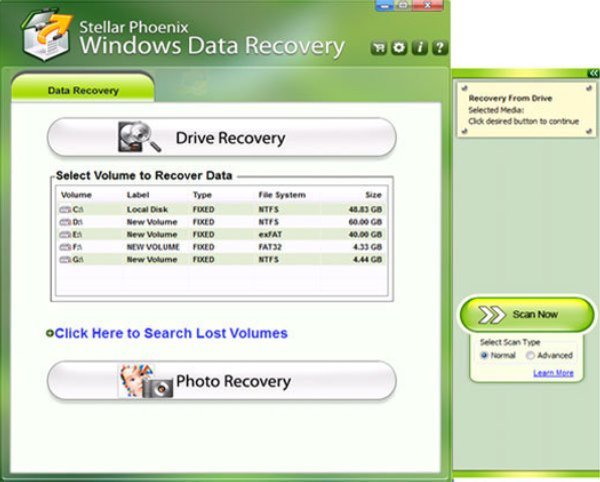 Download Stellar Phoenix Data Recovery Software
Stellar have vast experience in providing data recovery services. It have vast line of its data recovery software like For Windows, For Mac, for Linux, for Android, for iOS. You can choose the right product for your exact requirement. It give benefit of only paying for the software what actually we require and not for unnecessary services. Visit its store to see the vast list of its products.
In free or demo version it will only scan and show the result to the user, but to recover the file you have to buy the license key. For technicians it provide many tool kits with lifetime licenses. Stellar Data recovery for Windows Home is of $49.00 which will only recover files and folders. To add the partition recovery option you have purchase the Pro version of $99.00. So you have to purchase the license according to your requirement.
---
before purchasing, download the trial version and check weather software is able to detect your desired data / file and ready to recover. Every software have its own technology and capability of scanning and detection of the lost data. For different user, different software may work.
Please share your experience with the software that other users can get the idea. If you have used another software and is worth to add here in the list, then please suggest us using the below comment box.