There are already many free antiviruses available in the market for the basic security to the home users. But Avira have released a Free Security suite which includes some extra tools to safeguards against computer threats.
Download Avira Free Security Suite
Avira Free Security Suite is made up of a collection of powerful programs with each program performing its security functions. Some of the key services that you can enjoy from this suite include free security from virus and malware, enhanced privacy and improved the performance of your device.
Download Free Avira Antivirus Security Suite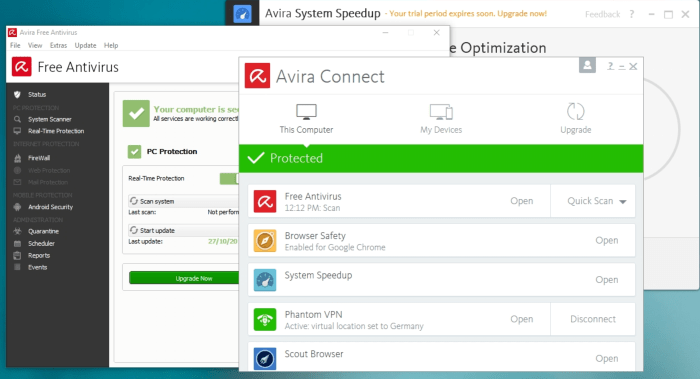 Go Beyond Antiviruss with Avira Free Security Suite
Avira Free Security Suites is made up of four major programs which are:
---
---
Avira Free Antivirus
Avira Browser Safety
Avira Phantom VPN
Avira System Speedup
It also includes some other free programs like Free Scout Browser, Free Password Manager etc. Although these products seem to be familiar especially among the Avira users, they have undergone tremendous improvements so as to deliver optimum performance. Let's look at what you should expect from each of the programs above.
1. Avira Free Antivirus
This component of the suite contains all the elements of the basic Avira Antivirus. When it was put in an independent testing lab, the suit delivered an impressive performance which matched other popular antivirus brands such as Kaspersky. The component protects your device from encountering any malicious software that harms your computer. The 2017 version of the suite comes with anti ransomware technology. This feature improves the security performance of the antivirus.
Avira Free Antivirus Features
Spyware and malware are very dangerous especially if you have saved sensitive information on your device. This antivirus scans for potential threats before accessing a file or webpage. The webpage or files are usually checked against the Avira database. It will then give you feedback on whether it is safe to proceed or not.
Your photos, emails, text messages and information on various apps are very sensitive. The app protects this information to prevent it from landing in the wrong hands since it can be used maliciously.
The app contains a browser tracking blocker which ensures no one will be able to trace your steps as you surf the internet. You can thus safely conduct your businesses over the internet.
Some genuine software may contain applications which steal data from your device without your knowledge. Avira is able to detect these applications no matter how well they have been hidden.
Web-based Management Portal
You can manage your devices remotely in case your device is stolen or you have forgotten it somewhere and you want to prevent anyone from accessing its contents. Some of the things you can be able to do remotely include:
Manage different devices through the internet even if they have different operating systems.
You can use the App Lock feature to prevent anyone from reading the contents on sensitive apps.
Security settings can be used remotely. Hence, you can track the location of your device if it is stolen and you can delete all data from it.
Tools for Anti-Theft and Recovery
If your device has been stolen, the app makes it possible for you to be contacted by the person who finds your device. A message will be displayed on the screen with your contact details.
You can trigger a loud siren to locate your device if it is nearby.
A tracker can help you locate your device on a map.
App lock prevents other people from accessing various applications on your device.
Data from the device can be deleted remotely hence protecting your sensitive information which includes text messages, emails and photos among others.
Remote locking is possible if you want to protect the information on your device without deleting it.
Antivirus Protection
Downloaded applications are scanned to detect any malware. These applications are continuously scanned even after installation. Updates are also scanned for malware before they are applied.
Avira rates the privacy of other applications you have installed. The rating is done based on the amount of data collected by these apps. The higher the amount of data collected the lower its privacy rate will be. Feedback will be given to enable you to decide whether to keep using the applications or uninstall them from your device.
If your device contains an external storage, it will also be scanned since any harmful content could spread to the device memory.
Blocking and Identity Protection
The applications enables you to blacklist anyone you do not want to contact you. You thus will not be able to receive phone calls or text messages from the contacts you include in the blacklist.
The application can detect a security breach and can check whether your emails or emails of your contacts have been compromised. If the app detects that one of your contact's email address has been compromised, it notifies them of the security breach thus preventing further damage.
2. Avira Browser Safety
Sometimes browsing can be quite a risky affair. You can find your safe visiting malicious websites which are out to obtain vital information about you. It is a Chrome and Firefox extension that will prevent you from accessing malicious websites. Browser safety plugin also enhances your security especially when you are using the search engine. It has special icons which can let you view t suspicious results and warn you in case you are about to click on the suspicious link. The browser extensions also come with tracker blocking and in case you would like to do some online shopping, it will help you to get the best deal.
3. Avira Phantom VPN
This VPN keeps you anonymous. It hides your IP address meaning that you will be able to access all the sites which you couldn't under normal circumstances. It also encrypts all forms of communications that you are making through the computer. You won't get worried about being intercepted by various agencies.
4. Avira System Speedup
This is basically a maintenance tool. It optimizes the performance of your PC and your browsing experience. The tool also works on the device's memory space by wiping out data that is of less importance.
Even though the whole suite sounds complex, it is very easy to handle, and you will be thrilled by every bit of the software. You won't experience any trouble when installing and managing this security suite. Managing the passwords that have been stored in your device is made easier thanks to the Avira, password manager. In the overall, Avira Free Security Scan is a full package that performs more than what a normal antivirus would.
Languages
The app is available in many languages which include English, Spanish, French, Japanese, Dutch, traditional Chinese, simplified Chinese, German, Polish, Brazilian, Portuguese, Russian and Korean.
System Requirements
For computers using Windows as the operating system, they must have Windows 7 or later. Those using Mac should be using an operating system of Mac OSX 10.11 or later. For mobile devices, the Android version should be version 2.2 or later.
The free version of Avira Antivirus has many good features. The pro version has extra features that enhance the effectiveness of the application by providing you with more security as you use your devices. The pro version of the app is a paid application but the awesome features make it worth the cost.