How to increase or decrease desktop icons size?
Desktop Icons size can be changed into Vista, Windows7 and windows 8, 10. There is an easy step to do that just in a few clicks. It is a useful feature in windows. Please check this out to change the size of desktop icons.
Here you will learn how to increase or decrease the size of desktop icons in Vista, Windows 7, Windows 8, The icons size is set to Medium size Icon by default. To show the icons for internet explorer shortcuts on the Desktop, you should have the View set to Classic Icons mode.
How to change size of desktop icons with the help of Context Menu
Follow the following steps how to change the size of desktop icons freely.
---
---
1. Right click on an empty area on the desktop.
2. Then Left Click on View. (See the screenshot below)
3. Select the size what do you want (Large Icons,  Medium or Small.)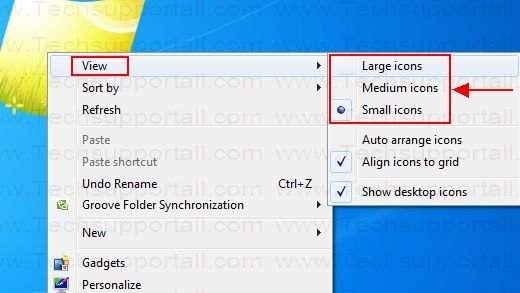 That's It….
More detail: http://social.technet.microsoft.com/wiki/contents/articles/909.changing-windows-7-desktop-icons-size.aspx