Everyday companies and a normal computer user strive to increase safety in their environments. Indeed, hackers continue to refine attacks and their intrusion techniques. In fact, it can take a long time for unauthorized access to the network infrastructure to be discovered. In order to be protected from malicious attacks, Microsoft presents Microsoft Defender ATP (Advanced Threat Protection).
This incredible protection suite brings together the best of Windows 10, with the features of Azure. Consequently, this software offers different levels of virus protection. Namely, real-time protection and post-breach detection. In addition to automated research and advanced network threat response. Well, in this post we will take a look at Microsoft Defender Advanced Threat Protection.
ATP means of protection
All Windows operating systems come with their own antivirus solution called Windows Defender. On the other hand, Microsoft Defender ATP is a set of advanced security solutions in the cloud, oriented to the business sector. But perhaps its most interesting feature is that it is complemented by the antivirus installed, whether Windows Defender or not. Additionally, ATP has certain features that increase the protection of the system. Let's look at some of them:
It can detect advanced and zero-day attacks. Please note that Microsoft ATP has integrated Artificial Intelligence. Therefore, based on the knowledge of the system and the study of the working habits, then it can predict these attacks. It also shows information about the gap and offers possible solutions.
The suite allows you to centralize the real-time analysis of the system. To this end, it provides a complete Dashboard
It has a fantastic alert research system. As a result, administrators can spend their time on other tasks.
Offers a single-platform approach
It offers excellent protection against innovative threats. For example, some kind of malware is hard to detect. And that's because they can constantly modify their code.
Many elements of a computer are susceptible to attack. However, Microsoft ATP increases system protection by shielding these surfaces. For example, web protection is guaranteed. In addition, it manages access to folders.
Microsoft Defender ATP Security Features.
The app has a number of mechanisms that scan the network for threats:
Behavioral sensors: Earlier we mentioned artificial intelligence. Well, this feature uses behavioral sensors. Its activity is to collect information about the activity of the system. Finally, this information is collected and sent to a cloud-based analysis system.
Threat intelligence: Redmond's company has a highly specialized team in computer security. And always supported by an enthusiastic community. Both are focused on the search and detection of malicious techniques.
Cloud security analysis: Thanks to the information collected and the tool's automatic learning, it is possible to detect hacker techniques and abnormal behavior.
Windows Defender Advanced Threat Security Dashboard
Microsoft Defender ATP provides a centralized management dashboard for all computer alerts and security measures. In addition, some of its functionalities are:
---
---
It has several navigation panels: Security Operations, Security Score or the Threat Analysis Panel
It provides security warnings via the network infrastructure
Using a question-based system, it is possible to request advanced information from the company.
In the machine list section, You can manage the hardware present in the infrastructure. In this way, it is possible to comprehensively detect possible threats
This Dashboard also provides an overall view of the current status of the service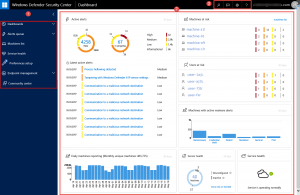 Threat and vulnerability management.
The main purpose of this suite is to detect and repair any anomalies in the system. To do so, it configures a real-time inventory of the devices. In addition, this database includes hardware and software information. Likewise, the tool learns as it is used. In this way, the lines of the behavior of the machine are analyzed. As a result, it is possible to detect performance that deviates from these models. Additionally, the artificial intelligence allows to prioritize those threats more critical for the security of the company. Finally, real-time protection alerts you to any configuration changes that could endanger your computer.
Microsoft Defender ATP is a multi-platform solution.
Microsoft is betting heavily on this security solution. Since it can be purchased individually in Windows 10. In addition, as it is a product-focused on business security, it is included in the products associated with the 365 suite. But also, Redmond's company has launched the tool for the Android operating system. As is well known, this is the most widely used mobile operating system in the world. Therefore, with this move, Microsoft enters fully into the mobile security market. But also, it has versions for Linux, Mac, and iOS.
So we took a look at Microsoft Defender Advanced Threat Protection. With the release of this tool, the company seems to take the security of its users very seriously. Let's wait and see how this app behaves in the face of growing threats. However, at the moment it looks very good. All right, that's it for now. See you soon!