What is Lamin Mech Error and how to fix it in evolis securion?
Dear sir, printer evolis securion give error ( Lamin Mech Error ) how can fix it?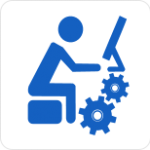 It supposed to have a problem with feeding cards. Mech Error – means Mechanical error. The solution of Lamin Mech Error is to clean the cards (See the below screenshot) or roller manually.
How to remove a stuck card:
Open the printer cover and remove the ribbon.
Pull the jammed card very carefully and remove card jam. Please do it nicely, because it may harm your printer components if you do not do it smoothly.
Replace the ribbon, and then you may close the cover.
Please check the roller cleaning process on page number: 28 and cards removing process in the Evolis Securion user manual.
Figure1: