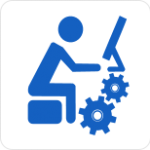 There are two reasons of Blank printing:
Due to Low or Empty ink cartridge.
Due to wrong driver installation.
If your computer doesn't show the Ink level warring message and if your INKs are not empty or low that means the problem in your printer drivers. Maybe your printer driver did not installed properly.
ONLY follow this steps if your ink cartridges are not empty or low because the steps may take long time.
Steps for remove wrong printer driver from your computer.
Do uninstall your printer  drivers from control panel
Disconnect your printer from computer
Remove all the traces of HP 1660 printer from registry. Note: Remove the registry entries carefully because it is very sensitive thing on computer. Before changing in registry, do backup(Export) of your computer registry.
Remove drivers from the folder location (C:\Windows\System32\spool\drivers\w32x86 OR C:\Windows\System32\spool\drivers\x64)
Uninstall all the printer port's traces from "Device manager" – (Universal Serial BUS) as well.
Now, do reboot your computer.
Download the latest printer driver from HP or our website. Double check the model number of your printer before downloading drivers because wrong driver installation was cause this type of issues.
Then Re-install the printer driver again after reboot the computer. Note: Make sure, don't plug the USB cable to printer or computer until installation wizard prompts about that.