Windows 8.1 is a revolutionary innovation in the field of computerized technology. It has definitely introduced the world to an advanced touch and tablet future. Most of the shortcomings observed in Windows 8 will be revised and modified in the latest version, Windows 8.1. It might take a while for new users to get used to this version however this refreshed operating system has a few tweaks that should make browsing a lot easier.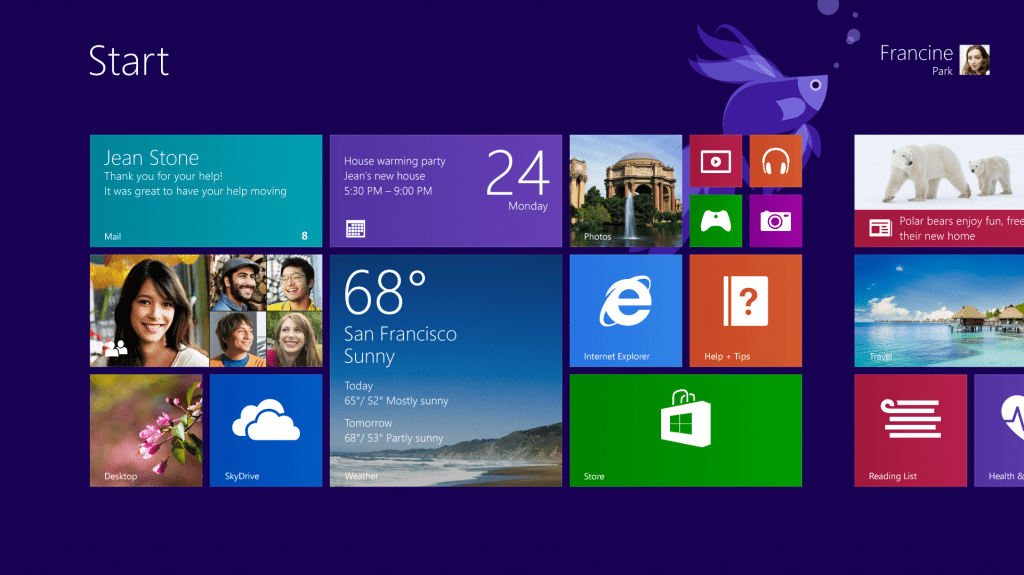 The software has been out for months now with Microsoft releasing its first service pack, Windows 8.1, Update 1. Right from Facebook to modern Outlook, it has been hinted that this version will bring back forth new Windows Scan App. General installments for the keyboard, sound, media and several systems have been upgraded to provide maximized efficiency. Microsoft might just exceed expectations with its latest Windows 8.1 version this season.
Features to Note
Microsoft's continuous world of developments has indicated that the touch system of Windows 8.1 will definitely be high quality alongside interface changes. SkyDrive integration is a definite feature that was previewed before so it should be a wonderful asset to have. SkyDrive is a cloud technology that is used for syncing files, both Windows 8.1 and Windows 8.1 RT. It can also be used to set the layout of the desktop toolbar and Start screen. The Start button will be available with plenty of adorable wallpaper images you can use.
End number of modern apps has been included in this version and you can change the settings without jumping down to the desktop each time. The comfort an ease of using Windows 8.1 has freed users from the constant itch of limited control that was seen in Windows 8. Notification center has been lodged with alerts, timer, update history and much more. Bluetooth, WI-FI, Plane mode etc have further been included in the version to provide easy access into internet facilities. Presence of encrypted email with a load full of new email sync options that allow you to download emails with pictures.
---
---
The Apps Store is definitely a wonderful accessory to have on your Windows 8.1 in which games can be stored on the SD card, manual updates can be initiated and automatic filtering through application is included. The Calendar is still a part of every Windows operating system that includes weather reports. Bing smart search introduces Podcast app which is worth a try while surfing. The burst camera mode is definitely attractive, featuring a new layout and auto-deletion. The browser will be Internet Explorer 11, supporting HTML5 video script and IE 11 to save and remember codes from websites.
You can have a password protected Office document with VPN support built in features. The presence of Enterprise Wi-Fi support alongside EAP-TLS and an auto-triggered VPN is highly beneficial. SkyDrive has been rebranded to OneDrive and you'll find enhanced MDM policies in the new Windows 8.1 version. This allows better enterprise control management with rich application installment and certification. The general features of this version improve user experience with voice narrator accessibility and double tap system to power off the system.
Technical features of the operating system include Battery Power Sense, Data Sense, Wi-Fi Direct, and Battery Saver as some of the main assets. You can welcome Stereoscopic 3D support and Virtual SmartCard support within this system. Windows 8.1 also features Miracast alongside Geofense monitoring. This particular feature monitors your location and delivers the information to the applications present on the system. It is highly essential if you're running IFTTT. Mute Thread is an optional feature that mutes messages, chats and notifications from Live Tile.
Installing Windows 8.1
Installing Windows 8.1 is very easy now that it has a free download available on the internet. You can directly obtain it from the Windows Store which should be present on your desktop if you already have an account. If the PC or laptop already functions on Windows 8 then the 8.1 version is relatively easy to upload. Open the Windows Store and you'll find this update available that can be installed instantly. In case you sign into the Microsoft account, you'll have to use a code that is either mailed or sent via text message to you. Once the confirmation of the code is complete, the installation is complete. If you have Windows 7, then you'll have to obtain Windows 8 and upgrade to the 8.1 version. Your files might stay on the system however the desktop applications will need downloading again. This isn't necessary if you already have Windows 8 on your desktops.
Microsoft Coupon codes
You can buy windows 8.1 in a discounted price from our Microsoft discount store where you can find all the latest Microsoft coupon codes and promos.