speaker no longer working
I plugged in my headphones then when i unplugged them the computer speakers no longer worked so i plugged in my headphones in the front of the computer but for some reason I could not hear any sound so I then plugged in my headphones into the back of my computer (I found a 3.5mm audio jack there) and then I could hear sound from my headphones.So the problem now is that if I want to listen to audio on my computer the only way to do that is to plug in my headphones into the back of my computer and the built in speakers no longer work.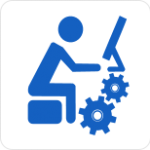 Make sure the speaker cable in not gone unplugged itself from the motherboard (inside the CPU). Also, check the front panel audio jack cable also plugged properly into the motherboard (Inside the CPU). If everything is OK then only the way you did is the last option. You also can buy a separate speaker for the PC and then connect it to the 3.5 audio backside jack.