Piesearch is on my computer and i can't uninstall.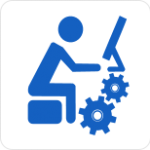 For this particular issue you need to remove unwanted Policies from google settings "chrome://policy"
Here are we provide step by step guide to remove policies from chrome manually:
Remove all the keys from from following locations.
HKEY_LOCAL_MACHINE\Software\Policies\Google
HKEY_LOCAL_MACHINE\Software\Policies\Mozilla\
HKEY_CURRENT_USER\Software\Policies\Google\
HKEY_CURRENT_USER\Software\Policies\Mozilla\
Remove all the folders from following locations.
C:\Windows\System32\GroupPolicy\Machine\
C:\Windows\System32\GroupPolicyusers\
C:\Windows\System32\GroupPolicy\User\