Image Issue in Mozilla Firefox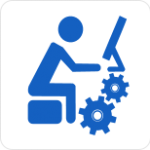 Try to reset your Firefox browser. Issue should be fixed after reset.
Here is the step by step guide how to reset Mozilla Firefox
Open Firefox and then go the Help menu (Press "F10" key once to active Menu bar)
Go to Help menu then click on "Troubleshooting information"
Note: you can also open this page in this ways, open Firefox then type this command in the address bar "about:support" (without quote) and then hit enter or OK.
You will get a page "Troubleshooting information" page, here you will get "Reset Firefox" option in the right side of the page.
Click on Reset Firefox option and then follow their instructions to reset firefox.
Mozilla Firefox should be Restored.