how to reinstall Windows 7-64bit Windows installer(.msi)
hi real troubles with my win 7 ultimate one of the services has dropped out so needing to know, how-where I can get this installer, installed back in my PC don't have the time to do a fresh reinstall of the whole system, even though the system is just on one SSD slaving data to the other 5 drives, originally installed in 2009!
Hi,
The service that is missing is "Windows Installer".
This prevents "Windows Update" and several new stand alone programs, from installing with the error "Service: Windows installer.msi is not installed"- please see your system administrator.
Have tried the Repair from "Windows recovery DVD" which cannot find any problem?
My guess is that its a Registry Problem one of the keys got trashed?
John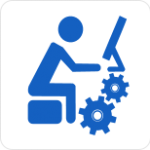 As you stated, one of the service is stopped but you have not mentioned the service name, please mention the service name. Also, exlpain about your main problem in detail that you are facing on this windows 7 computer so that we can help you in a right way.