How to undo something in command prompt
So I typed something in my command bar that I found on Reddit. I thought it would fix the pen issues that I was having but it ended up making things worse. When I typed it in it said something like "successfully changed" I don't remember exactly what it said. I restarted my computer after that and tried using my drawing tablet pen and it started acting even weirder, Is there a way to undo this action ???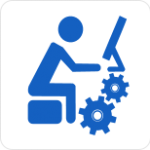 There is no direct option to undo the CMD command action. But it can be undone in another way using system restore method. This method would be helpful if your system has made a system restore point recently. Click here to know how to restore your computer to an earlier date.