Microsoft Windows updates are crucial and necessary for any version of windows. And we do not recommend to disable it. But there are many situations where it needs to disable the updates like.
You don't have an Internet connection or you have one with limited cap on usage.
You don't have enough room for new updates or updates makes your computer slower, etc.
But Microsoft here is forcing windows 10 updates on your computer. These updates are automatically downloaded in background consuming unwanted hard drive space and interner usage.
In this article, you will get to know about how to get rid of Microsoft's updates which are enforced on us by the following clause in their terms and conditions.
"The Software periodically checks for system and app updates, and downloads and installs them for you. You may obtain updates only from Microsoft or authorized sources, and Microsoft may need to update your system to provide you with those updates. By accepting this agreement, you agree to receive these types of automatic updates without any additional notice."
---
---
In Windows 10, users don't have any option for disabling  these automatic updates. Updates are automatically downloaded and the only option you are provided for the purpose of installations is:
Install automatic (Recommended)
Notify to schedule restart
Following are some useful tips to prevent Windows 10 from automatically downloading such updates.
Set Your Net Connection As Metered
The best and effective method is to set your connection type to metered connection. It will prevent many useless updates to download automatically. However, updates with priority will be downloaded whether your connection is metered or not. Windows automatically sets 'meter on connections' such as mobile data etc. But you can also set your home network metered by following a short simple method below:
Go to Setting option on Start Menu.

See advance setting under Wifi in Network and Connections

Toggle your metered connection option
Stop the Windows Update Service
You can stop Windows update service directly. It is initially enabled to automatically start after boot. So, what you have to do here is to disable it, so it won't start automatically after every boot.
Open Windows Run by pressing Win+R.

Type services.msc in Run option.

Find Windows update service here and go to 'General' tab by double clicking on it or right clicking and selecting properties option.

Disable its option for Start-up type and reboot your computer.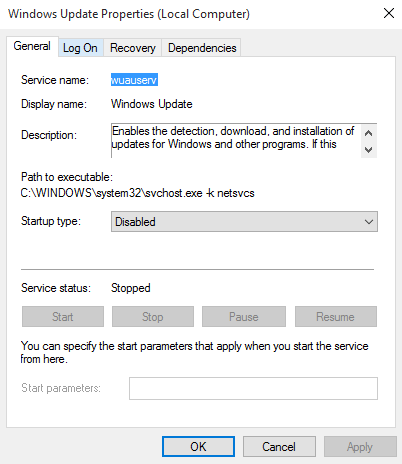 There are many other ways for it, but the above 2 are relatively safer. Other methods deal with registry and stuff that could harm your computer. Thus, these methods should not be followed by a non techie or amateur.
Finally, not all updates are bad. Actually new updates are provided to improve user's security with fixed bugs present in the previous version. And honestly, most of us are enjoying windows 10  freely because our PCs are mostly up to date and are also open for recommended updates. The point here is, nobody wants to allow OS to automatically download updates for itself without any user permission. And to prevent this, you can follow the above mentioned tips.