Norton Mobile security Review and coupon codes
[Read About new Norton Security all in one solution for all devices]
The well-designed, intuitive interface provides user friendly and feature-rich security software which is an all-rounder for all security needs by a reputed organization.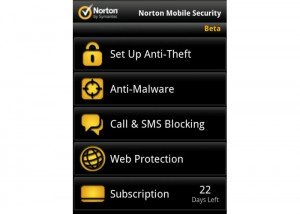 The mobile and telecom industry has undergone a huge revolution in the past decade, with an in-surge of innovation on both the software and hardware fronts. With average user sporting smart phones etc. it has become a great security threat as well. Everyone wants best protection for their costly cell phones lest something harms the operating system for their smart phone.
Norton Security Services is one of the most renowned and reputable company when it comes to mobile and internet security. Their products have proved their excellence above others time and again.
Norton Mobile security download
Norton mobile security is multi-platform software, You can use it either on your android based device or on your iphone or windows based device.
On its launch, the Norton mobile security app provides you a guided tour for the introduction to various Norton security products. The user interface is very intuitive and follows the stream of most of the common Android and smartphone apps i.e. on screen button click or swiping through the menu. There is a notification option available but it has not been enabled on the front screen like other contemporary security service providers.
There is free malware scan option available which can also be set to periodically scan for any viral injection. The added plus is the in-built scan not only for each new app that you download to your phone but also any new memory/SD cards which certainly makes your app installation free of anyapprehensions regarding your device security. Like other available security services, Norton also provides device lock and wipe option in case the device is lost or stolen. This feature ensures the security of all your personal data so that you can keep all your personal files without worrying for their misuse in any emergency.
The premium Norton Security Suite really shows off the true potential of its software. The remote device-lock and clean ensures the security of data stored on your device. In case you lose your device, you can enable a customized message to flash on the screen so that the finder may deliver it back to you. The interesting feature is the incorporated Scream alarm which alerts people in the vicinity to the location of your phone.
To help you get rid of unwanted or unknown calls and messages, the Norton Mobile Security Suite lets you block all such numbers. However, it does not come with timed block-service i.e. a number once blocked will remain so forever. The app also allows you to store you contacts as Contact Backupon cloud which can be recovered in case the device is lost. The safe browsing feature is available only for the android browser and not for others.
The major downside of the app is its allowance of restoration of factory setting without prompting for any security or PIN code. And this one hitch makes all the efforts gone into design of the Norton Mobile Security Suite go in vain.
Nonetheless, it is one of the most highly rated security app out there. It ensures its users a risk-free and malware-protected experience of the smart phone. Infact, it is the best one of all due to its auxiliary advantage of ensuring hindrance free performance of the device. The Sneak Peek feature activates the front camera and captures the picture of the thief which can go a long way in device recovery process.
The well designed software is sure to bring you security with ease and make your experience of your smart phone an enjoyable ride for you.
Merits:
Instinctual user friendly GUI, Intuitive and fast web service app, state of the art malware detection and safety tools, finest security features from all around.
Demerits:
In case of theft etc. the remote lock and clean features require user to subscribe, dreary activity and notifications feed, restoration to factory setting feature requires no PIN or security password.
Norton Mobile security coupon codes:
To find out the best discount and coupon codes for Norton you can visit our Antivirus Discount Page. Checkout the latest Norton Security products which is compatible with all devices.