Bitdefender recently released its latest version for 2017. All an antivirus should do is wipe out malicious software on your computer and prevent infestation by Trojans, ransomware, viruses and any other type of malware. Bitdefender 2017 surpasses these basic functions. It features a secure browser for financial transactions, an interactive user interface, a simple password manager, Ransomware protection, secure file shredder, Wi-Fi security advisor and parental control. Bitdefender 2017 performs its main antivirus tasks very well. It works for Android, Windows and Mac OS devices.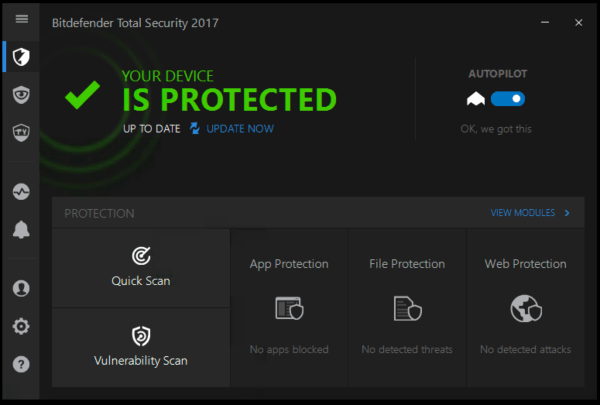 New in Bitdefender 2017
Here is the summary of new and the improved features in New Bitdefender Total Protection 2017.
Anti-Ransomware
Today, encryption ransomware that locks files and threatens to throw away the key unless you pay up is rampant. Ransomware protection in bitdefender provides powerful protection against ransomware by allowing you to define one or more folders whose contents are protected against unauthorized modification.
---
---
Previously, anti-ransomware was reserved for bitdefender Total Security suite but it is now available in the entry level of bit defender 2017.
Wi-Fi Security Advisor
When you connect to Wi-Fi hotspots like those in airports, cafes, shopping malls or parks, bitdefender Wi-Fi security advisor scans the public network for any vulnerability and recommends the best action for you to take in order to stay protected.
System Tune-Up with Disk Clean-Up
Bitdefender 2017 is more than an antivirus, it has some powerful tools that will help you optimize your devices. For the first time, the system Tune-up has a disk clean up that enables you to get rid of all the clutter easily and keep your devices running as good as new. System Tune-up was also available in its previous version but Disk clean up module has been added in 2017 version.
Improved features
Bitdefender 2017 has so many improved features which are more efficient. They include:
User interface
With the 2017 version, the main window has undergone some changes. The background still has a gray shade but it is darker. The window is also broken into rectangular panels allowing access to security features. The circled green mark indicates safety while a red one indicates a need to attend to the configuration but the circles are more animate.
The big change on the interface is a new left rail icon menu that has eight selections. activity, upgrade, privacy, protection, help, setting, account and notifications. The protection icon includes web protection, vulnerability scan and antivirus while the privacy tab allows you to manage the file shredder, password manager and the safepay secure browser. Each of the icons give you finer control.
Parental Advisor
You can manage bitdefender parental advisor online while the local bit defender app are on the android, windows or mac devices to enforce the rule you set and all your children's activities are reported to you via inbox. The designers have made a few changes to make this component friendly and simple to use.
For example, you can now set up as many accounts and set up controls for children's account on shared devices.
Remote Management
Bitdefender 2017 startup optimizer can be used remotely.  It will allow you to check your devices and even disable application from any part of the world.
Anti-Theft
Bitdefender 2017 anti-theft tools comprises of a central option that takes pictures remotely from any android and window devices. This enables you to track down a lost device. For mac devices, a time machine protection prevents any unauthorized access.
Bitdefender 2017 is goes beyond the minimum features of an antivirus and it is certainly a great security choice for your Android, Mac and Window devices.