Windows 10 offers a great internet experience. In fact, a large percentage of time is currently spent surfing the Internet. Most of the time this is a smooth and stable process. However, sometimes this process is affected by redirects, pop-ups, and slower browsing. This time we'll talk a bit about Cacaoweb. This is a multimedia streaming service of French origin. It plays directly in the browser the movies and TV series stored in different Internet services. In addition, it has a search engine and has an option to download the content played. Well, sometimes this software modifies the behavior of the system and web browsers. As a result, the home page, the search engines and the URL of the new tabs are changed. Additionally, it often saturates the system with pop-up windows, misleading offers, and spam. So let's see how to remove Cacaoweb from a computer.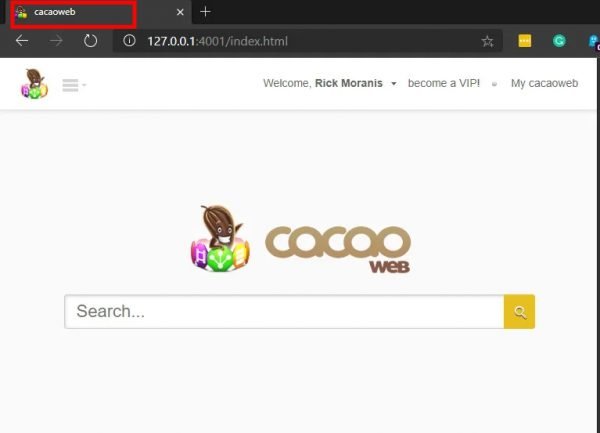 How to remove Cacaoweb. Enter the safe mode of Windows 10.
In this case, we will uninstall the software. However, to ensure operation we will restart Windows 10 in safe mode. To know how to do this, please check our post.
Well, first of all from the dashboard of the program please enter My Cacaoweb.
From that panel, please click on uninstall program.

Click on OK.

To complete the uninstallation, please remove the shortcut.
You can also enter the control panel and check if there are any suspicious programs installed. With this intention press the Win + R combination and run the command appwiz.cpl

A list of installed programs is shown below. Please check for Cacaoweb and other suspicious programs and uninstall them by right-clicking on them.

Removes Cacaoweb from the most used browsers.
Once again we are faced with malware that modifies the behavior of web browsers. At first glance, it seems harmless to have another home page. Or use a different search engine. However, this can be input for attackers to access the configuration of the computer damaging it. In addition, you run the risk of losing the information entered in these browsers. So our personal credentials are at risk. This can lead to unauthorized access to social networks, email or even worse to bank accounts.
---
---
Removes Cacaoweb from Google Chrome.
Google Chrome is the most widely used web browser globally. For that reason, it is also a target for threats. So we'll see how to remove Cacaoweb from it. This malware behaves as a further extension, so removing it will enter the Settings.
With this intention, please click on the 3 dots in the upper right corner of the browser and then click on settings.
Once inside the configurations, please click on Extensions.
This action will display a window with the list of installed extensions. Just select the extension related to Cacaoweb and remove it by clicking on Remove.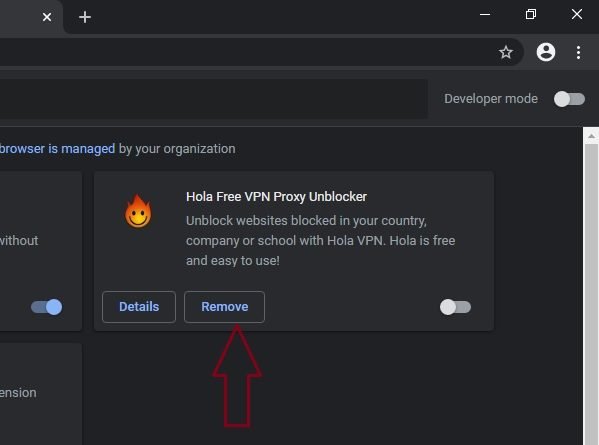 After removing the extension, we recommend resetting Google Chrome. However, this browser has a built-in malware cleaner. So it's good to use it. With this in mind, from the same menu, scroll down to Advanced. Then select Reset and cleanup. And in the right menu select the option Clean up computer. Additionally, wait while the system does its job.

Finally, I recommend you to return Google Chrome to its factory settings. With this intention, press Restore settings to their original defaults. This action will delete the extensions and changes in the browser and leave it as it came by default. This is the final option to remove this annoying adware.
Removes Cacaoweb from Mozilla Firefox
Inside the Firefox browser, we can find this malware as an Add-on. For that reason, let's remove it.
With this in mind, please click on the three lines in the upper right corner of the browser. Once there, please select Add-ons.

A window with the list of all the Add-ons installed will be immediately displayed. Then, select the suspect and use the switch to uninstall it.

As we have been doing, it is advisable to return the browser to its original factory status. In this sense, Firefox is more direct, since it is enough to write about:support in the navigation bar. Once there, just click on the Refresh Firefox button. Then, wait a few seconds while Firefox returns to its original state.

Removes Cacaoweb from Microsoft Edge.
Now it's the turn of Microsoft's revamped web browser. Previously we have commented that its engine has changed and is now based on Chromium. Well, Edge can also be affected by Cacaoweb. But don't worry, we'll see how to remove it.
With this in mind, please press the 3 dots in the upper right corner of the browser. Scroll down until you get to the Extensions section.

In the next window, please select the suspicious extension and remove it.
As we saw with the other web browsers, here too it is convenient to reset Edge to its original settings. With this intention, from the menu, please scroll down to Settings.
Within the following menu, please press the Reset Settings button and wait while the original settings are restored.

In this way we have seen how to remove cacaoweb from our operating system. It is always advisable to only install reliable applications. Also, check what is being installed so as not to let malware through. See you later!