How to remove Kaspersky? Download Kaspersky removal / uninstall tool
To uninstall Kaspersky we can use the add / remove feature in Windows. As an antivirus install deeply in the system for better protection, So uninstalling with normal way may left over some registry entries and other files in the system. That why we should use the removal tool for complete uninstall.
Kaspersky removal tool
Kaspersky removal tool is a utility to uninstall kaspersky labs products completely from the computers. This tool works well for Windows 10 / 8 / 7 / XP for both 32 bit and 64 bit versions. Below link will redirect to the official download page on kaspersky. This is also known as kavremover tool.
How to remove / uninstall Kaspersky?
First download kavremover tool from the link given above.
Run the downloaded file and click on install anyway if asked.
Accept the terms and then it will ask you to enter the security code. You can refresh the code if unable to read it properly. It is a captcha to make sure that it is not used by some bot.
It will automatically detect the installed product. And you just have select the right product and click on Remove button.
After a while it will give you the message that removal has been completed.
Restart the computer.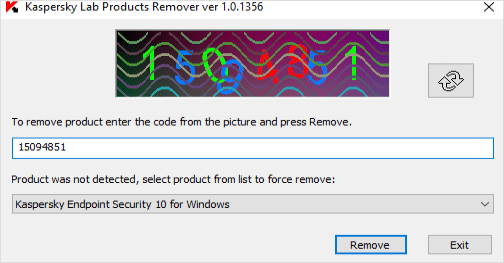 FAQ
Q: Why to use Kaspersky removal tool.
A: As mentioned above we use it for a complete removal of Kaspersky software from the computer. It helps when users face issue during reinstallation and license activation etc.