Question
My Internet Explorer shows Astromenda.com search page as a start up page. Could you please help me how to remove Astromenda.com from computer? I have not seen the option to change homepage in Internet Settings.
How to remove Astromenda.com from Internet Explorer, Google Chrome, Mozilla Firefox.
Explanation & Solution
Astromenda.com is a browser hijacker that was created to control the browser settings in order to boost the page ranking of various websites in the search results. It looks like a regular homepage and search engine, but it has the sole purpose of advertising shady webpages. Astromenda changes the browser settings without your permission in order to generate as many intrusive ads as possible. Anytime you open the browser, the browser hijacker will display various types of ads of the third-parties that sponsor the hijacker. It redirects you to sponsored websites to increase revenues from advertising and it constantly contributes to blackhat SEO. This browser hijacker also prevents other programs from competing companies from modifying its settings by placing lock files in the browser. It monitors your online behavior and use the information for marketing purposes or privacy breach.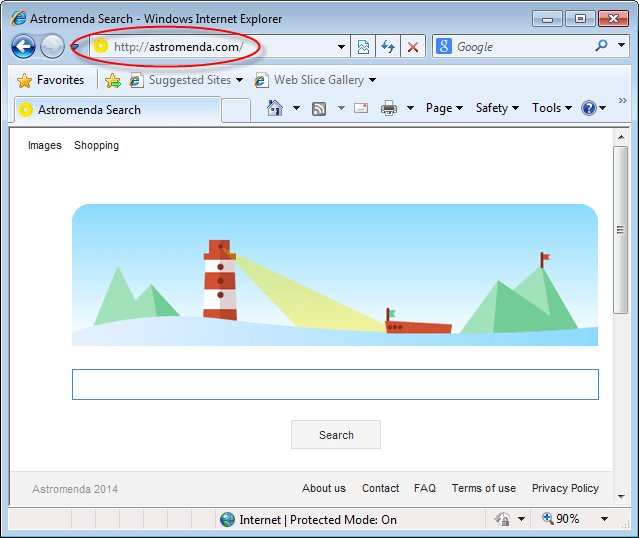 ---
---
Once Astromenda.com enters the computer, it hijacks the browser and takes over the settings. It changes the default search engine, as well as the home page and search options. The interface looks similar to the Google page, but it's actually a different domain that can gather information about search terms and browsing habits. Sometimes it can even disable the Security Policy to allow access to malicious websites. The advertised webpages are shady or can be completely fake. You might even be invited to download drivers or updates. It has rootkit capabilities so it could affect the operating system. The new tab is often assigned to astromenda.com as well and it constantly redirects you to sponsored websites.
The most frequently encountered symptom of this browser hijacker is that it changes the browser homepage to astromenda.com. The new homepage features many sponsored links, banners, pop-up ads and link advertisements. Your default search engine will also be changed to Astromenda.com Search. The search results are unreliable as they focus on the sponsored websites. The websites that you access are full of unwanted ads and pop-ups.
Typically, this browser hijacker comes bundled with third-party free software that you download. But it could also enter the computer through crooked online streaming websites that require you to install additional software for you to view videos. Anytime you download freeware without paying attention to the installation process, you might end up agreeing to install Astromenda as well.
Freeware can often lead to infections. Be careful with any free software installer. Many of them include optional programs that you don't know about. Don't be deceived by applications that claim to be "100% virus free". Don't skip reading the End User License Agreement (EULA). Don't agree to install any software that you're not familiar with. Always use the "Custom" or "Advanced" Feature and install only the program that you're interested in. Some websites are scams. They claim to offer beneficial freeware that would otherwise cost much, but they actually mean to trick users into downloading malicious software. That's why you should only download from reputable sources.
Removing the software that brought along Astromenda.com is not enough to fix the issue. Look for the list of programs currently installed on your computer and uninstall Astromenda.com, as well as any other program that looks suspicious. Reset your browser to its default state and remove any unknown browser add-ons or extensions.