How to Remove Adwares – AdwCleaner Download
How to Remove Adwares (Removal Guide)
You can download AdwCleaner from the below link.
What is an Adware ?
Adware is a virus which is install our computers without our permission, once an adware entered into your computer it will hijack your all the browsers and your running process in system tray. And finally they shows only which adds which they wants to show you, your home has changed, your default search engine has changed, when do you want to search something via internet they will  shows you only their preferred result which is almost useless.
From where it was came into our computer ?
An adware comes from along with many of free software's packages, when you install any free program it will ask you to NEXT and install automatically and Hijacked your all the browsers, So please be concuss  for all free software installation while installation it will certainly ask for installation of search bar, toolbar, language translation program installation, so please ignore all them.
How to Clean an Adware from my Computer ?
Here is the proper step-by-step guide to remove any adware from your computer, please follow the steps.
1. Download AdwCleaner from the below link.
2. Run that downloaded file (Adwcleaner.exe)3. Then you will see a Adwcleaner program and you will 3 button in button, Search, Delete, Uninstall
4. First please click on search (as shown in below screenshot)
4. once you click on search it will take lot of time here, after that a notepad file will automatically open which is shows that the software found how many adwares. (as shown in below screenshot)
5. Now leave this notepad as it is and click on Delete button on the Adwcleaner program. (as shown in below screenshot)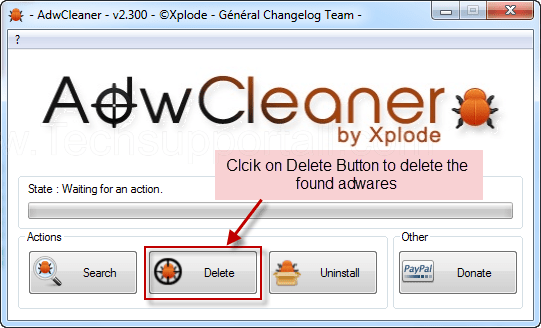 6. Now after deletion process done, your computer will restart automatically. (as shown in below screenshot)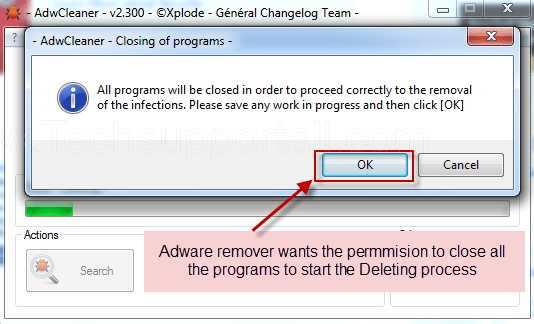 7.  After computer restarted a notepad automatically will appear which is shows you the report of adware deleted or failed. (as shown in below screenshot)

8. Please close  that notepad and run the adwcleaner once more and then now click on uninstall to uninstall Adwcleaner from your computer.
After done all the above process, all the adwares have removed automatically from your computer.
Related Search
Here you will have the guide to how to remove adware from pc this is the free adware removal how to remove adware from computer If you want to know the solution to how do i remove adware this is the remove spyware adware, If you start your internet explorer and you get that adware free removal do you want to remove it, if you wanted it so please find out solved infsruction to fix issue, this is the free adware and spyware removal, All the peoples want to know that how to remove adware from your computer  or how do you get rid of adware , do you want to know what is adware. this will fix your issue and you let you know about adware spyware remover.